Nottingham Forest v Leicester City: Racist chant warning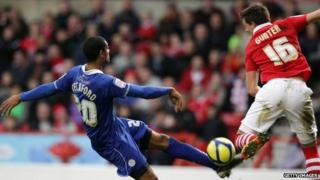 Nottingham Forest fans have been warned to behave ahead of the match against Leicester City after racist chanting at the teams' FA Cup fixture in 2012.
Police said officers and stewards would be wearing cameras and tough action will be taken against abusive fans.
More than 28,000 fans are expected at the City Ground match this evening.
Police arrested 26 men on Tuesday in connection with a fight in Trowell after the game between Forest and Derby County in September last year.
It brings the total arrests connected to the brawl to 39 and more could follow, police said.
'Racist chants'
In 2012, Nottinghamshire Police treated a complaint against Forest fans who chanted, "You used to be English, you're not any more", as hate crime during the goalless FA Cup draw against Leicester City.
Supt Mark Holland, match commander for the force, said: "When these two teams have met previously there has been a small minority of people who have started or joined in with racist chants.
"Alongside the clubs we are taking a zero-tolerance approach to this type of verbal abuse and we will be taking positive action to identify anyone who is involved."
Nottingham Forest provides an anti-social behaviour text service that allows people to report any behaviour they feel is offensive.
Communications manager Ben White, for Nottingham Forest, said: "The club will not tolerate this kind of antisocial behaviour at the City Ground and will take the strongest possible action against anyone who is involved in such behaviour."
A spokesman for Leicester City said: "Players and supporters have the right to participate in a match day that is free from prejudice and we would urge supporters to report any activity which compromises this to the police."