Sir Tom Finney remembered: What happened to local heroes?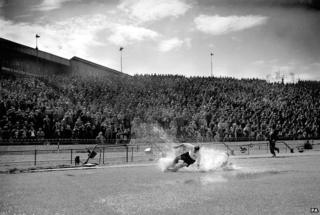 On the day of the funeral of football legend Sir Tom Finney, who achieved huge fame without ever moving away from Preston, BBC News asks if provincial towns and cities still idolise their famous sons and daughters - or whether the era of local heroes is over.
They called him the Preston Plumber. Sir Tom Finney was revered by the people of Preston and became the embodiment of a local hero.
In the 1950s he split his time between dazzling fans while playing for his hometown club and putting hours of hard graft into a local plumbing business.
He will forever be synonymous with Preston in the same way the name Nat Lofthouse evokes Bolton and Billy Wright is worshipped in Wolverhampton.
The trio - and others like them - were vintage "one-club men" who played their football in a financial landscape alien to today's marketplace.
BBC Sport's Paul Fletcher, a lifelong Preston North End fan, said Finney was "inextricably linked" to the city.
"In Preston you were raised on stories of how good he was as a footballer first and foremost, but also what a wonderful person he was.
"Finney and others of his generation were firmly rooted in their communities because money hadn't taken them away from the people they'd grown up with.
"They still had the same problems, concerns and aspirations as those people. They just happened to be celebrities of their time because of their ability."
Nowadays, players of Finney's calibre tend to be lured by huge wages to play overseas or for one of England's dominant big-city clubs.
Dr Neil Carter, from the International Centre for Sports History and Culture at De Montfort University, said previous regulations including the maximum wage and the retain and transfer system acted as a deterrent for players to move.
He doubts whether modern examples of football loyalty translate to local hero status.
"Tom Finney was at a small, provincial club in the North," he said.
"The idea of local heroes has changed relatively to how the economic situation in football has changed.
"The likes of Steven Gerrard, Gary Neville and Paul Scholes aren't really local heroes in many ways because they were or are at 'super clubs' and they're only popular in one half of their cities.
"Most footballing local heroes are usually from towns that just have one club. So in London, you don't really get a local hero as such."
Who are the men and women from your town or city who made their name but have never forgotten their roots? Email england@bbc.co.uk
Aside from reasons of sporting devotion, provincial towns and cities often like to hail a local hero to "establish a sense of importance", according to historian Professor Paul Ward.
"It's about having a global ambassador, so the local pedigree is important but that sense of civic competition means it's important for the individuals to be recognised by others."
As an academic at the University of Huddersfield, Professor Ward has researched the relationship between Hollywood actor James Mason and the West Yorkshire town.
"He took up acting, became a national star by the end of World War Two and Huddersfield was quite proud of him.
"But when he arrived in America he did an interview in which he said he hated Huddersfield and he never wanted to come back."
Eventually, Professor Ward said, Mason made his peace.
"He was in America for about 15 years before becoming unhappy in his marriage and getting divorced. He moved to Switzerland but he increasingly visited Huddersfield and re-established his relationship with the town.
"People started to forget what he'd said and in 1972 he made a programme for Yorkshire Television that was a loving portrait of Huddersfield and the town became almost unconditionally proud of him again.
"He's a Hollywood A-lister who returned home to this idea of local heroism."
Many celebrities who earn lots of money leave their local area, Professor Ward said, leading "not only to a sense of jealousy but also a sense that by moving away they're disrespecting or losing a sense of their roots".
Gracie Fields of Rochdale and Wigan's George Formby, however, remained local heroes because they "retained their accents and continued to talk about the town they came from".
Seb Lassandro, president of the Gracie Fields Appreciation Society, said the star "incorporated Rochdale into everything she did" and became "our Gracie, the Lancashire lass".
"In the 1930s, Gracie and Formby were the representatives of the working classes from Lancashire.
"People could relate to them. They would finish work in the factories and go straight to see the performances."
Fields, Mr Lassandro said, was also dedicated to giving something back to her local community.
"At one point she was the highest paid film star in the world but she was still taking time out of her schedule to go back and give performances for free.
"You wouldn't find today's actors going back to downtown New York and doing a week's free charity work."
Back in the world of sport, Dr Carter said there were examples of local heroes who, despite not being born in the town where they were fêted, "acquired a sense of being one of us".
"In the 1930s there was a West Indian, Learie Constantine, who went to play league cricket in Nelson, Lancashire," he said.
"He became affectionately known as Connie and was regularly seen around the town. There was the sense among locals that he was 'one of us'."
Another "local hero within a global context", Dr Carter said, was the Brazilian footballer Juninho, who had three spells at Middlesbrough.
"When they won the League Cup the local paper's front page had a picture of him with the cup.
"Not the captain or even the whole team, it was Juninho. That gives you a sense of the affection with which he was held and shows that local heroes don't necessarily have to be locally born."
Professor Alan Tomlinson, from the University of Brighton, said other than after one-off events such as London 2012, which saw victorious athletes returning to their hometowns as heroes, there was now a "completely different economic and cultural relationship" between sports stars and the general public.
"Generally there isn't a connection there any more," he said.
The death of Finney and the tributes that followed contrasted sharply with the moral debate that was sparked when it emerged Wayne Rooney had agreed a new contract with Manchester United worth £300,000 a week.
But whatever wealth Rooney and his peers amass in their careers, they will find it difficult to earn the warmth and affinity afforded to the Preston Plumber and other local heroes of years gone by.