Unsmoked Churchill cigar and signed photo fail to sell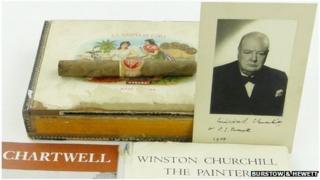 One of Sir Winston Churchill's unsmoked cigars, a signed photograph of the wartime leader and other memorabilia have failed to sell at auction.
The Cuban cigar, embossed with Churchill's name, and an autographed picture were given as a gift to carpenter Philip Pannell in 1955.
Mr Pannell occasionally worked at Churchill's former home of Chartwell, in Westerham, Kent.
It had been hoped the items would fetch up to £1,500 at auction.
A cigar box belonging to Churchill, an inscribed booklet and a personal card were also included in the lot auctioned by Burstow and Hewett in Battle, East Sussex.
A spokesman for the auctioneers said the items had failed to sell on Wednesday but they hoped to arrange a buyer outside the auction room.
'Waste bin box'
Earlier Mark Ellin, of Burstow and Hewett, said: "They came in locally from a lady whose father worked for Churchill.
"He worked for a local carpentry firm and went to Chartwell first in 1949 and ended up being the regularly carpenter there.
"If ever they wanted something doing they would ask for him. They knew each other quite well and in 1955 Churchill gave him that cigar.
"They don't come up for sale very often and this one has got provenance."
He added: "The box is also Churchill's. It has his name on the side too.
"Apparently they had lots of them piled up at Chartwell. I think this one was fished out of a waste bin."