Bristol rowers adrift in ocean vow to finish Atlantic race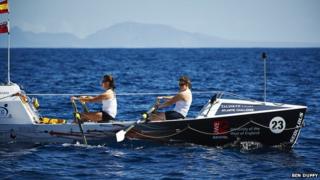 Two rowers who are adrift in the Atlantic Ocean have vowed to finish an endurance race that ended two weeks ago, despite being plagued by problems.
Lauren Morton and ­Hannah Lawton entered the Talisker Whisky Atlantic Challenge in memory of a friend who died of cervical cancer.
The pair set off from the Canary Islands on 2 December and the winning boats reached Antigua on 15 January.
But the Bristol students are still 1,000 nautical miles from land.
University of West England student nurse Miss Morton, from Wetherby, West Yorkshire, and Miss Lawton, a sports science student from Stoke-on-Trent, still have 1,021 nautical miles before they reach the finish line.
'Determination to finish'
During their 75 days at sea the women have seen their satellite navigation break down, a battery burn a hole in the middle of their charts and a full 360-degree capsize - during which Miss Morton said she "split my head open".
To add to their problems, they are currently adrift while they wait for a replacement rudder.
In their blog, Miss Morton wrote: "I'm not sure how much longer we will be out here, or even when the rudder arrives whether the boat will hold a bearing.
"What we do know, is that together we made the decision not to give in, and as the days stretch out we only grow in determination to finish."
'Epic challenge'
In May 2012 the women lost their friend, 23-year-old Eleanor Ellis, to cervical cancer.
Miss Morton said that not long after leaving the UK they received an email from a mutual friend of Miss Ellis, which read "I can remember when just climbing the stairs to bed would cause Elle so much pain".
"That line rings so loud in our heads whenever we doubt ourselves or our ability to continue, and so we push on and live for the day we can proudly step foot in Antigua," Miss Morton said.
The women are raising money for Myton Hospice who cared for Miss Ellis until her death and Jo's Cervical Cancer Trust.
John Lawton, Hannah's father, added: "They are still out at sea and their challenge is turning out to be epic following many mechanical and electronic failures to their boat and the extremely severe storms we are all experiencing at present.
"They are the two youngest females ever to row from La Gomera to Antigua and they have amassed a huge amount of followers for their valiant and courageous efforts."