Southampton's golden anniversary: 50 years as a city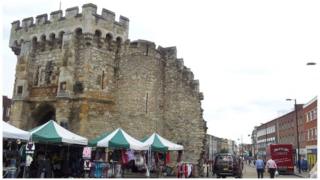 Southampton is marking 50 years since it was awarded city status.
On 24 February 1964 it was granted a royal charter because of its growing population, large port and contribution to the economy.
It had first applied for city status in 1929, but that request was turned down by King George V.
World War Two and the resulting austerity postponed Southampton's next application until September 1958, when a petition was prepared for the Queen.
Church service
That application was initially rejected in 1959, but on 7 February 1964 the town received a letter from the Home Office advising that the petition had been successful.
The charter granting Southampton city status is dated 24 February 1964.
To mark the 50th anniversary, celebrations are taking place throughout the day.
The mayor's parlour is being opened to the public, and a commemorative service of thanksgiving will be held at St Mary's Church in the city at 17:00 GMT, which anyone who wants to may attend.
Other events will take place through the year, including a Sport Relief Mile, Easter Fair on the Common and a music festival, Let's Rock Southampton, in July.