Bradford, York and Darlington newspaper staff strike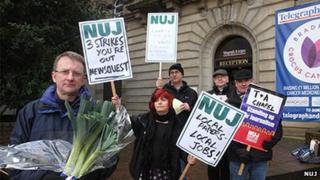 A 24-hour strike by journalists at three local newspapers has begun in a dispute over jobs.
Strikers at Bradford's Telegraph and Argus, the Northern Echo in Darlington and York's The Press are unhappy about transferring some production to Wales.
Ten jobs are at risk in Bradford, five in York and 10 in Darlington, according to the National Union of Journalists.
David Coates, of publisher Newsquest, said the strike was "disappointing", and the papers would still be on sale.
Tony Kelly, of the National Union of Journalists (NUJ) in York, said: "We want to keep the paper local; we do not want part of production going to Wales.
"This is the first time in history all three papers have been on strike together."
Mr Coates, regional managing director of Newsquest Yorkshire and North East, said that a new editorial system in Newport would enable more efficient publishing. But he said that all "key editorial decisions" would continue to be made locally.
A commitment had already been given for no compulsory redundancies, he added.