Lack of PCC public scrutiny 'disappointing but not unusual'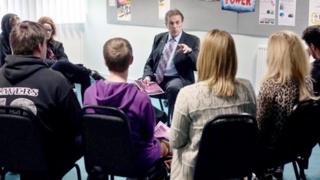 Hundreds of meetings held to scrutinise the performance of England's police and crime commissioners go by without a public question being asked, BBC News has found. One PCC said he is "not surprised" by the figures.
Cleveland Police has never been far from the headlines over the past three years.
Its chief and deputy chief constables were sacked for gross misconduct and the force is still at the centre of a long-running corruption investigation.
Those controversies do not seem to have tickled the public's interest, however.
The force's police and crime panel is one of several around England not to have received a single public question since the PCC elections in 2012.
The panel holds its meetings in the same building that houses Stockton's library.
'Not surprised'
In the area reserved for the public at the back of the room, there is less chatter than can be found in between the shelves of books next door.
One or two journalists are usually present, along with the odd representative from a special interest group, such as the alcohol industry.
Occasionally, a member of the public does pull up a seat.
But the only contributions are made from those sitting at the top table alongside PCC Barry Coppinger and the councillors and independent members whose job it is to scrutinise him.
The panel's chair, Councillor Norma Stephenson, said it was "disappointing but not unusual" not to receive questions, adding that the PCC answers "no shortage" of queries elsewhere.
Away from the hush of panel meetings, Mr Coppinger has attended 146 community meetings since being elected, makes regular appearances in the local media and takes part in online chat sessions.
The PCC is "not surprised" by the lack of questions in the formal setting.
"I am involved in answering questions from members of the public if not every day, then several times a week," he said.
"What I have tried to do is engage with the public in their community. I'm not expecting them to come to me and ask questions, I'm going to them.
"To me, that's a better way of doing business."
But is he concerned that people do not seem to be engaging with the issues he is responsible for?
"People lead busy lives and people are under lots of different pressures so I'm not precious about that," he said.
"I'm here, I'm accessible and I can talk to people about their concerns."