East Midlands health research gets £28m boost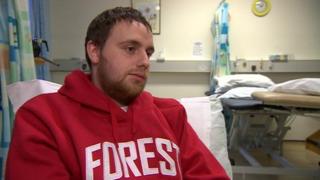 More than £28m is being invested in the East Midlands to improve health research and chronic illness rates.
The collaboration between more than 50 organisations across the region, has been backed by the National Institute for Health Research (NIHR).
According to NHS figures, the East Midlands has higher rates of conditions such as heart disease and stroke than the rest of England.
The group will concentrate on five key research areas.
These are: heart disease, stroke, hypertension, COPD (chronic obstructive pulmonary disease) and chronic disease and obesity.
Stroke dangers
Dr Nikola Sprigg, stroke consultant at Nottingham University Hospitals NHS Trust, said 93,000 people in the East Midlands were living with the aftermath of stroke.
"Stroke is the fourth biggest killer in the country and the biggest cause of disability.
"Stroke units save lives, but some are better than others. We can look to others for how to improve care and outcomes for stroke survivors.
"The research is very important as we need to bring everyone up to the same standard."
Prof Mike Cooke CBE, chair of the East Midlands' NIHR project added: "The East Midlands hosts some of the best health researchers in the world and the region has an enviable track record of success and achievement.
"However, the key element will be transforming good research outcomes into practical, improved health outcomes on the ground."
The areas covered by the collaboration for leadership in Applied Health Research and Care East Midlands are: Derbyshire, Leicestershire, Lincolnshire, Northamptonshire, Nottinghamshire and Rutland.