Marco Polo: Storm wave death ship deemed 'fit to sail'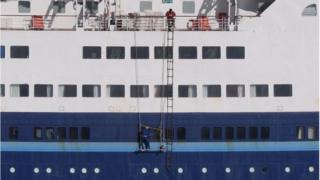 The cruise ship on which an elderly passenger died when it was hit by a freak wave has been declared fit to sail by the Port Health Authority.
James Swinstead, 85, from Colchester, was killed when water crashed through restaurant windows on the British ship Marco Polo on Friday night.
Mr Swinstead's widow Helen claimed the ship had been "badly maintained".
But the vessel has been cleared to continue sailing after inspections by police and port officials.
It left Tilbury on Sunday night for a 14-night Norway and Northern Lights cruise with a full complement of about 790 passengers on board.
A spokesman for the ship's British operator, Cruise and Maritime Voyages (CMV), said the vessel, originally built for the Russian cruise market, had been given the go-ahead to continue.
CMV spokesman Paul Foster said: "Police and Port Health Authority people came on board yesterday and conducted their own investigations.
"They had the power to detain the vessel if they considered it was unseaworthy or if regulations were not being followed.
"The next cruise is under way. Some passengers needed reassurance but no-one has cancelled and there have been no cancellations for the next two cruises which are also 14-night Northern Lights voyages."
Several other people were injured when the ship was caught up in the storm in the English Channel.
Mr Foster said the damage to the vessel had been limited to four smashed windows and carpet damage.
The one seriously injured passenger, a woman in her 70s, was recovering after being airlifted to hospital.