UK storms: Thousands of homes without power across south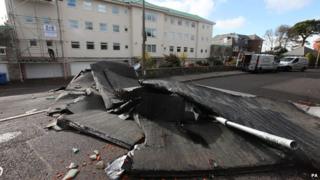 Thousands of homes across the south of England were left without power for two days despite a respite in the storms.
On Sunday, Scottish and Southern Energy worked to restore supplies to 6,000 homes across the region, having reconnected 174,000 since Friday night.
The company said it expected the remaining homes to be reconnected overnight.
Trains between Banbury in Oxfordshire and Leamington Spa remain suspended due to a landslip near the Harbury tunnel..
A number of severe flood warnings remain in place for the Thames Valley with groundwater levels set to rise.
Owners of a seaside restaurant in Hampshire, evacuated after rocks from waves smashed through windows on Friday night, are continuing to clear-up the damage.
The army and emergency services rescued 32 people from the Marine Restaurant in Milford on Sea as they became trapped by surging flood water.
'Priority case'
General manager Stephen Caunter said: "There's a lot of work to be done before we can reopen.
"The whole ground floor area was under water.
"We're going to be closed for a month or so, which is upsetting as we've got a lot of weddings and parties booked for March."
Mark Bradshaw, who lives in East Ilsey, Berkshire, said he has been left frustrated by the lack of information from electricity suppliers after suffering four power cuts since Wednesday.
"At no point has anyone told us when this power cut is likely to end," he said.
"In the last 24 hours, I think my wife and I have called the supplier about 10 times."
Mr Bradshaw, who has an eight-week-old baby, said: "We've had no contact from them despite the fact we're apparently registered as a priority case because of our baby."
Gavin Steele, from Southern Electric, said: "We've had teams of staff out since first light Sunday and we're making good progress.
"Engineers have been out since Friday night and we will be working hard for as long as it takes to get everyone back on as soon as we can."
Emergency services, the military and staff from the Environment Agency have been working to sure up a riverbank in Romsey, Hampshire.
About 40,000 sandbags have been laid to protect an area under threat of erosion to reduce the risk of flooding to around 300 homes.
The plan is to redirect water back into the River Test further downstream.