UK storms: South East facing further disruption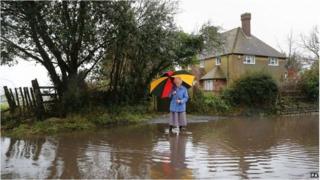 Homes have been left without power and trains disrupted after high winds and heavy rain hit the South East.
Rail services by Southeastern and Southern were delayed and cancelled after trees fell across their networks.
UK Power Networks said about 11,000 of its customers had faced power cuts across Kent, Surrey and Sussex on Saturday.
Severe flood warnings remained in place on the River Thames, with more defences put up in Chertsey and Staines.
Further flood warnings were in force for rivers across the South East, including the Colne, Dun, Rother, Medway, Beult, Stour and Wey.
Army clearing trees
Environment Agency spokesman Graham Scholey said rainfall was expected to push water levels up on the Thames over the next few days, with another pulse of water moving down the river.
He said the agency was continuing to deploy more flood barriers in Surrey, with further temporary defences put up in Staines and Chertsey on Saturday.
The Army, which has been helping to protect infrastructure and homes from flooding in Surrey, had also been called on to help clear fallen trees, police said.
Surrey Police Assistant Chief Constable Gavin Stephens said: "There are more and more reports of trees.
"The good thing this time is that as part of the flooding effort we are really well supported by military colleagues and they've got some specialist cutting equipment so they can help out highways and help get these roads open quicker over the course of the next 24 hours."
The Army was also working to protect properties with sandbags in Kent.
Southeastern earlier suspended trains on all routes after at least 12 trees fell across its network overnight. The company later said all lines had reopened.
'Beyond our control'
Southern warned major delays, alterations and cancellations would affect its entire network all day.
In Kent, the QE2 Bridge at the Dartford Crossing and the A249 Sheppey Crossing were closed because of high winds, the Highways Agency said.
However, the QE2 Bridge reopened at about 16:00 GMT.
The Port of Dover was also closed because of high winds. It reopened later, but with operators warning of delays.
Kent Police implemented Operation Stack, which is when lorries waiting to cross the Channel queue on the motorway, on the coast-bound M20 between junctions 11 and 12.
The London-bound M2 was closed near Faversham because of fallen trees blocking the carriageway.
BBC Travel said there were severe delays near the scene, where several more trees were in danger of falling on to the road.
Power cuts had affected about 3,300 customers in Kent, 6,400 in Surrey and 1,700 in Sussex, UK Power Networks said.
By Saturday afternoon, this had been reduced to 4,710 customers in Kent, 1,628 in Surrey and 952 in Sussex.
High winds and rain had caused power cuts when overhead lines were damaged or brought down by trees, branches and other wind-borne debris, the company added.
"Our electricity network is built to be resilient but extreme weather can cause damage beyond our control," a spokesperson said.
In Brighton, the city's Sea Life Centre lost power and was flooded when sea water surged across the promenade and got into the attraction.
Staff said none of the resident creatures was harmed and the centre would reopen on Sunday.