NHS England heart services review results 'delayed'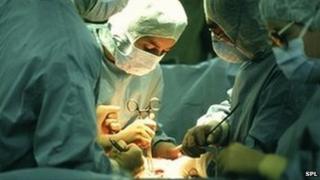 The results of a review into heart services in England are not likely to be known until next year, the BBC understands.
The conclusions of the review of adult and children's services were originally due in June.
However, they have been delayed as the audit scope has widened, BBC Look North health reporter Sharon Barbour said.
The review began after earlier plans to stop child heart surgery at three hospitals were blocked.
The proposals to halt operations at hospitals in Leeds, Leicester and London provoked widespread opposition.
The Children's Heart Federation said the delay to the review - and resulting uncertainty - was harming services across the country.
Its chief executive Anne Keatley-Clarke said: "It has not only resulted in low investment and affected staffing levels but has created a worrying culture of infighting within the service.
"We are receiving concerns that surgery cancellations are being partly caused because units are reluctant to refer children on to other heart units when they do not have capacity to deliver them."
Ten hospitals currently perform children's heart surgery but the Joint Committee of Primary Care Trusts concluded in July 2012 that the service should be concentrated in specialist centres to improve safety.
It said surgery should stop at Leeds General Infirmary, Leicester's Glenfield Hospital and London's Royal Brompton.
But, after campaigns to save local services, the High Court quashed the decision, saying the consultation had been flawed and "ill judged".
Health Secretary Jeremy Hunt then ordered a review of the review.
Newcastle Hospitals chief executive Len Fenwick said he had "every confidence" in the original conclusion that the Freeman Hospital in the city should continue to provide heart services.
"I'm very confident, with this second review, they will recognise the breadth and scope of the services here in Newcastle upon Tyne," he said.
The scope of the review has widened from testing for abnormalities in the womb to end of life care.
A three-month public consultation due this spring is now expected to start in the summer.