Environment Agency abandons sell-off of dredging equipment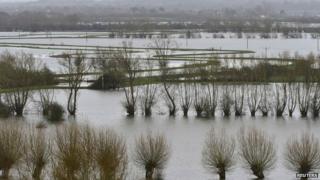 The Environment Agency which had been criticised for planning to sell dredging equipment has withdrawn the items from auction at the last minute.
Three long-reach excavators, capable of removing earth and debris from underwater, were due to be auctioned by Brightwells, near Hereford, on Friday.
Three other lots featuring non-dredging equipment were left in the sale.
The agency said it had withdrawn the items from auction because of the present floods.
The planned sale had attracted strong criticism from some farmers.
John Bishop, whose farm in Colwall, Herefordshire has been affected by flooding said the timing of the planned sell-off was "very undiplomatic putting it mildly".
'National reserve'
Jeremy Perkins, who runs a livestock farm in Suffolk and is an online moderator for The Farming Forum, went further.
"The timing couldn't be worse, but it should never have been put for sale at all," he said.
"There should be a national reserve of this kit, either to allow it to be used for preventative measures, or for use in an emergency."
The Environment Agency said the three excavators would now be reconditioned and put back into service.
A statement on the auctioneers' website read: "We are instructed to withdraw lots 649, 650 and 651, on behalf of the seller. We apologise for any inconvenience caused."
A spokesman for the Environment Agency admitted Friday's auction was "not great timing" and a decision to withdraw the items was taken "very recently".
However, he said selling off equipment was all part of managing a working fleet and designed to recoup some of the cost for taxpayers.
He said the excavators due to be sold in Herefordshire were eight years old and being replaced.
Mr Perkins likened selling off an excavator of this age as selling a car that's done 30,000 miles, adding that it had "plenty of miles left in it".
He said there had been a huge response to the intended sale on The Farming Forum.
One post said the sell-off was a good indication of the amount of dredging the agency intended to carry out in Somerset. Another said "have they no shame?".
The agency said it had invested in 10 new and improved models of long-reach excavators over the last three months.
It is not the first time the Environment Agency has auctioned off dredging machinery. In December, a long-reach excavator, almost identical to those slated for auction on Friday, was sold for £47,000.