Harwich DFDS ferry crashed due to engine 'running too fast'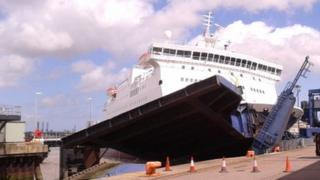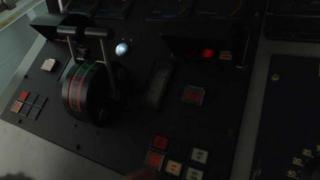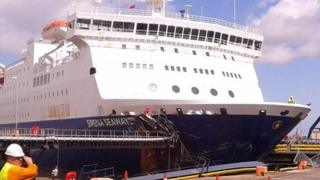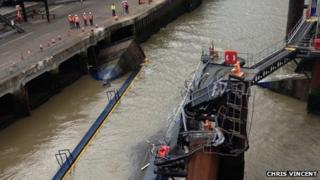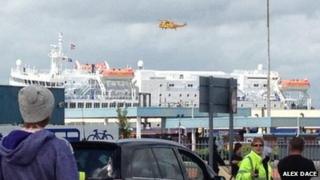 A crash at an Essex port was caused by a ferry approaching too fast because no-one noticed a back-up system was keeping an engine running at 63% power.
Almost 500 passengers were stranded on the DFDS ferry Sirena Seaways for two hours after the crash on 22 June at Harwich International Port.
The engine was still running unnoticed two hours after the impact, the Marine Accident Investigation Branch found.
DFDS said changes had been made to stop such an accident happening again.
The crash caused severe damage to the quay and holed the ferry in several places, some below the waterline.
While the engine was still running it prevented tugs from moving the vessel so passengers could disembark safely.
The 23,000-tonne vessel had just arrived from Esbjerg when the accident happened.
The report said: "No defects were found with the propulsion control systems and it was considered most likely that the button to activate the back-up control system was inadvertently pressed during the early stages of the entry into the port.
Poor crew communication
"This bypassed normal control of the starboard propulsion system.
"The error was not noticed by the bridge team and the starboard propulsion system continued at 63% ahead for nearly two hours after the accident, hampering attempts to pull the vessel from the damaged berth."
The Marine Accident Investigation Branch discovered poor communication and team work between the bridge staff and engineering crew.
The report recommended more regular bridge and crew training to prevent decline in performance when working on repetitive operating patterns.
Also as a safety precaution the Marine Accident Investigation Branch recommended DFDS consider ways in which passengers and crew could be rapidly informed about an impending accident.
DFDS said it had now fitted covers to prevent inadvertent operation of back-up systems, improved training of bridge staff and included testing in periodic maintenance procedures.
In addition the company had reviewed and updated its pre-arrival and pre-departure checklists and procedures.
Because warning lights had been set on low power the bridge staff in daylight had failed to notice the engine was running.
"Bridge wing console indicator lamps have been changed to improve clarity and more bridge checks made as standard," a DFDS official said.