Flood victims paying for sandbags in South West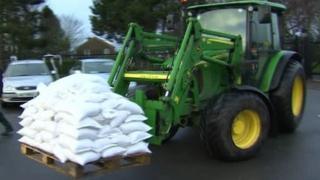 Flood victims in storm-hit Cornwall are having to pay for sandbags, despite the government saying they should be free.
Prime Minister David Cameron has announced no councils should charge for sandbags, insisting councils would get "100%" of the money they spend on flood relief.
Cornwall Cornwall said it was not a statutory duty to provide sandbags.
However it said residents could buy them from its contractor Cormac Solutions - which charges £3 per bag.
In Devon, Torridge District Council is charging £3.50 per sandbag.
David Cameron has tweeted that "central government would pick up the cost".
In an interview with BBC Radio Devon, he went on to say local authorities had been told all their relief costs would be reimbursed.
'Hit by crisis'
"I've said to local councils - including Cornwall and Devon County Council and your district councils - we will reimburse 100% of the money you spend," he said.
"If there are sandbags needed, if the military is needed, if you need emergency service responses - all of those things will be paid for.
"When our country is hit by a crisis like this, people shouldn't be in any doubt that when it comes to the relief effort the money will be spent and it is being spent."
Geoff Brown, Cornwall Council's cabinet member for Homes and Communities, said it was not a statutory duty to provide sandbags.
"There is also the question of storage and distribution and ensuring that with 300 miles of coastline, they are located where most needed," he said.
Cormac Solutions said it was charging £3 per bag, adding that it would be willing to discuss all options with the council.
Mr Brown said people in vulnerable areas were "well prepared" and residents had been "well advised" about where they sandbag supplies could be purchased.
"That said, given the very recent announcement by the prime minister of additional funding, it would be appropriate to review our strategy to ensure that our communities are best protected," he added.