High winds in Yorkshire leave thousands without power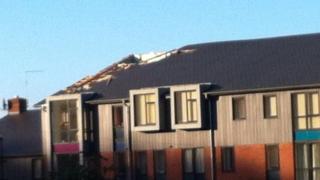 Power has been restored to thousands of homes after overhead lines were damaged by high winds in Yorkshire.
At one point overnight about 56,000 people were without power as gusts of up to 90mph (144km/h) were recorded.
Northern Powergrid said it still needed to reconnect 1,000 people due to "severe damage" from "blowing debris".
Work has begun to repair damaged buildings including the gable end of a house collapsed at Tadcaster, North Yorkshire.
Hundreds of rail passengers were left stranded for three hours after a train lost power at Birkby in North Yorkshire.
Wednesday's 18:30 GMT Kings Cross to Edinburgh service was pulled into Edinburgh at 01:00 after delays caused when the part of the train that connects to the power supply was damaged.
Nick Wood, from East Coast Trains, said: "We understand the wind blew a part of one of the pantographs on top of the train and of course then brought down a section of the overhead line."
He said it took about three hours after the train lost power before a Thunderbird locomotive could reach it and haul the train north.
Roof destroyed
The damage to overhead lines between York and Darlington meant delays on the east coast mainline would continue until the end of the day, the company warned.
Train services have also been affected between Wakefield Westgate and Leeds, and between Doncaster and Leeds due to overhead power problems.
South Yorkshire Police dealt with about 200 weather-related incidents, and officers in North Yorkshire said they took over 200 calls in an hour on Wednesday evening.
It said most of the incidents were regarding fallen trees blocking roads, telegraph poles coming down or slates blown off roofs.
One of the most serious incidents overnight was the collapse of the gable end of a house in Tadcaster.
North Yorkshire Police said no-one had been injured and the residents were staying with relatives.
In Sheffield, the roof of an elderly care home was blown-off in the wind.
Around 30 elderly people were moved out of the Roman Ridge sheltered housing in Wincobank. Most spent the night at the Northern General Hospital.
Owners Sanctuary Housing said most residents could now move back in but some flats would be kept empty "while work continues over the weekend".
In Rotherham a stone pinnacle fell and became wedged in the roof of the Minster on Wednesday evening.
Canon David Bliss said: "Internally the broken roof woodwork was scattered across the north aisle.
"As a result of this damage Rotherham Minster has been closed today but is expected to reopen on Saturday."
In Huddersfield, West Yorkshire a roof blew off the swimming pool at Salendine Nook High School.
Fire crews from Whitby and Scarborough were called to help a 45-year-old builder who had become trapped on a roof while making a repair in Whitby.
Many though, are still waiting for power.
Roderick Stewart, from Northern Powergrid, said: "Overhead lines are built to withstand high winds but you have got debris flying through the air that can cause significant damage."
He said inspections of the overhead line network were taking place and customer support vehicles had been dispatched to communities without power, offering hot refreshment and advice.