Ellie Rowe ketamine death 'destroyed our family'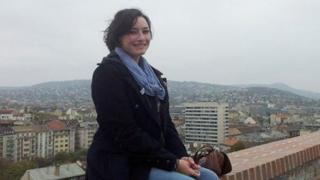 The father of an 18-year-old woman who died after taking the drug ketamine has described how "one act of stupidity has destroyed our family".
Bradley Rowe made the comment as it was announced the drug is to be upgraded to a Class B banned substance.
Ellie Rowe, from Glastonbury, Somerset, took the Class C drug while at the Boomtown Fair festival in Winchester.
Miss Rowe, who was named British Army cadet of the year, was pronounced dead at hospital last summer.
The teenager, who intended to go to university to become a lawyer, was volunteering as a steward for Oxfam at the event when she took a line of ketamine powder on 8 August.
The Winchester inquest heard she took the drug having bought it from a "friend of a friend" at the festival.
'Absolute tragedy'
Coroner Sarah Kirby recorded a narrative verdict, which stated that Miss Rowe died as a result of alcohol and ketamine toxicity and central nervous system depression.
She said: "Ellie was a young girl who would have had no idea whatsoever that what she did would cause her death.
"She was 18, it is not that she was a habitual drug user, she thought it would be fine, she didn't think about it."
Speaking after the inquest, Miss Rowe's family said they wanted to warn others of the dangers of taking ketamine, especially in combination with alcohol.
Her father said: "She was very responsible, it's an absolute tragedy, it was one act of stupidity and that can destroy a family."
Mr Rowe said his daughter was independent and outgoing and that this had not been a case of "major drug use".
In a statement read to the inquest Miss Rowe's friend, Stephanie Peirce, 18, said she fell asleep after taking the drug and came round to find Miss Rowe unconscious.
On-site paramedics attempted to revive Miss Rowe until an ambulance arrived and took her to the Royal Hampshire County Hospital in Winchester.
Pathologist Dr Adnan Al-Badri told the hearing toxicology reports showed Miss Rowe had the second lowest fatal dosage of the drug recorded.
She had earlier drunk a few cans of lager and was 1.1 times the drink-drive limit, which Dr Al-Badri said exacerbated the danger of taking ketamine.
'Our beautiful daughter'
Mr Rowe said he was backing a report by the Advisory Council on the Misuse of Drugs in December, which recommended that ketamine should be upgraded from Class C to Class B.
He said: "The main message is do not take any powder because you do not know what is in it.
"You do not know the strength of it, you do not know how your metabolism will act upon it, you run the risk of causing harm to your whole family which we feel with all our hearts."
Miss Rowe's mother, Wendy Teasdill, 56, added: "It is well-documented that alcohol and ketamine do not go well together but I feel that it should really be reinforced - if you take even a small amount of ketamine and a small amount of alcohol, you could die.
"Nothing will bring our beautiful daughter back, if anything positive is to come out of our daughter's death it might be the sombre reminder that looks, brains, fitness and sheer enthusiasm for human experience are no match for the toxic blend of alcohol and ketamine."