Richard III's 'Battle of Bosworth flag' sold at Suffolk auction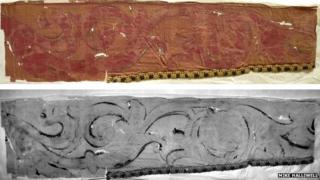 A fragment of a flag which may have belonged to Richard III's army as it went into the Battle of Bosworth has been sold for £2,800 at auction.
The fragment, which was found in a bulk lot of textiles purchased from a house clearance, had a note pinned to it attributing it to the battle.
Dr Maria Hayward, textile expert at the University of Southampton, said it was possible the fragment was genuine but she could not be conclusive.
The guide price was £3,000 to £5,000.
'Unusual staining'
Dr Hayward said that on the basis of a visual examination, the fragment of cloth could possibly date from the late 15th Century - the Battle of Bosworth took place in 1485.
However she added that the materials and techniques seen on the cloth were used before the Battle of Bosworth took place and went on to be used into the 19th Century.
"Potentially the most unusual feature is the use of staining to create the design.
"It was a technique that was in use in the 15th Century but it was not mentioned much in the context of flags being produced for the crown."
She said the best way to conclusively date the fragment would be to analyse the dye used on the silk cloth, or some of the white pigment.
"It is hard to provide provenance for textiles but if it is Richard's, it would be absolutely iconic and it would be amazing."
'Plausible' provenance
The note that was pinned to the flag seems to have been written in pen and ink in the 19th Century, according to Chris Elmy from auctioneers Lockdales.
"The type of fabric, its age and designs are all plausible for the Yorkists of Richard III's era," said Mr Elmy.
"There is also the question of why such a scrap of pennant was kept. If not a trophy from a battle, why else?"
The Battle of Bosworth was a pivotal and bloody fight between the houses of Lancaster and York which took place at Bosworth Field, near Market Bosworth in Leicestershire, in 1485.
Henry's forces killed Richard, ending the Wars of the Roses and marking the beginning of the Tudor dynasty which ruled England until 1603.
Last year a fragment of a flag, thought to have been carried by Henry Tudor's standard bearer in the Battle of Bosworth, sold for £3,800 in Derbyshire.