UK storms: Gale force winds bring chaos to North West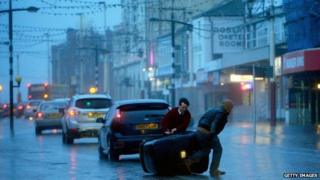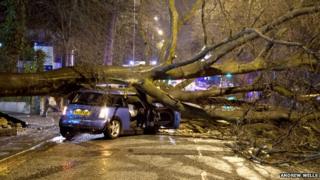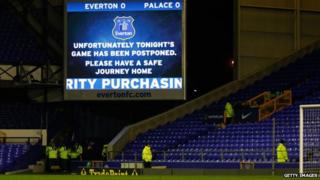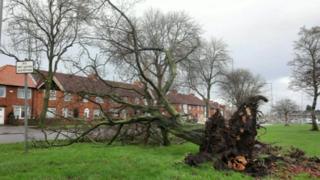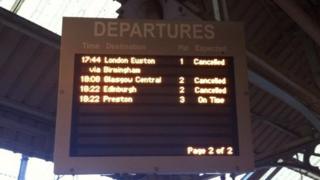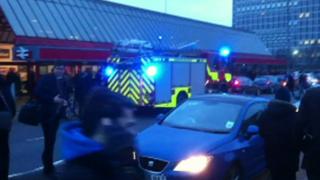 Gale force winds of up to 100mph (160km/h) have been battering the North West, bringing chaos to the region.
The M6, M60 and M62 were closed and suffered severe delays due to overturned vehicles and dangerously high winds.
The region suffered widespread structural damage and loss of power supplies to about 20,000 homes.
Flights, trains and ferries have all been cancelled and delayed, and trees blew over blocking roads.
Manchester City's Premier League match against Sunderland at the Etihad Stadium has been postponed due to "unsafe conditions", police said.
The Everton game against Crystal Palace at Goodison Park was also called off because of weather conditions.
'Hurricane force 12'
Wind speeds of more than 71mph were recorded on the Thelwall Viaduct near Warrington - high-sided vehicles "can easily be blown over at 60mph", North West Motorway Police said.
The major highways affected are:
M6 closed between junctions 20 at Lymme and junction 21a, the Croft Interchange, with diversions in place.
M62 closed between junctions 22 and 23 across the Pennines, and the M56 Weaver Viaduct suffered delays in Cheshire.
M60 closed in both directions at Barton High Level Bridge after a lorry overturned onto a car.
M55 into Blackpool - delays after a roof was blown off a building.
The Met Office issued a red weather warning, with hurricane force 12 winds, which was downgraded to an amber warning at 21:00 GMT.
Irish Sea ferry crossings between Heysham and the Isle of Man have been cancelled.
Speed restriction
Paul Harrison, of Liverpool Coastguard, said: "Hurricane force 12 is the worst we can get.
"We seem to be getting the brunt of it."
Virgin Trains advised all customers not to attempt to travel and said customers already on services will be taken to the nearest station.
The West Coast Main Line was closed between Preston and Shap, Cumbria, until 21:00 because of high winds, and subsequently suffered "severe problems", Network Rail said.
Other rail disruption included:
Services from Crewe cancelled and the station evacuated due to damage to the station roof and debris. It re-opened at about 21:00 GMT but delays continue.
Arriva Trains Wales westbound lines blocked after a garage roof blew on to the track in the Newton-Le-Willows area.
Merseyrail said trains were subject to severe delays and speed restrictions due to an earlier obstruction on the line.
Trains were unable to call at Manchester Airport station until 21:30 GMT because of damage to the station roof.
Trains unable to stop at Warrington Central due to glass roof smashed.
All Blackpool trams cancelled following concerns about overhead power cables.
High winds caused disruption to flights into Liverpool John Lennon airport and many flights to and from Manchester were cancelled.
Some flights were also cancelled at Blackpool airport.
The airports are advising passengers to check with their airline directly.
Homes without power
Electricity North West said is has drafted in extra engineers after about 10,000 homes were affected by power cuts due to overhead line damage.
A spokesman said: "Supplies may not be restored this evening due to the severity of the weather; however we have engineers ready to continue repairs from first light on Thursday."
Scottish Power said 10,000 homes were affected by power cuts in Cheshire and Merseyside.
Roads have been closed in Liverpool due to falling debris from buildings.
Masonry from St John's Plaza fell onto parts of Liverpool's Elliott Street and Lime Street, and a building on Hankin Street was damaged in high winds.
Blackpool Police advised Fylde coast residents to remain indoors unless an emergency arises, and the promenade was closed.
Police urged people not to not go into Manchester city centre "unless it's absolutely essential".
Greater Manchester Fire Service (GMFS) also asked people only to call in emergencies and said there have been some "lucky escapes".
One driver was helped from his car by passers-by after a tree fell on it in Ashton, and a family was trapped in their house after a tree was blown down in their garden in Wythenshawe.
Residents of an Old Trafford building were trapped on the second and third floors after an external staircase collapsed.
'Terrifying' experience
Enna Bartlett, one of the residents, said her car was crushed by the falling staircase, adding: "Fortunately no-one was hurt when they came down and the fire brigade have done a stellar job.
"Currently there is no way for us to get in and out of the flats as that was the only staircase."
A large tree fell and damaged two homes on Coronation Road in Runcorn, Cheshire Fire Service said.
Police in Cumbria said there were "numerous" fallen trees and storm debris on the roads in Barrow, with several blocked roads.
Sally Twomey from Cheshire said she had a lucky escape driving home from work.
"I was driving extremely carefully down country lanes when, 50 to 100 yards in front of me, a full sized tree fell right in front of me," she said.
"It was one of the most terrifying experiences I have ever encountered."
Warren Pickstone, of GMFS, said: "It's pretty treacherous out there and we would ask people not to take the risk as we have had over 200 calls about trees falling down, tiles blowing off roofs and other hazardous situations."
Cheshire Police urged people to use 999 for situations where there is a threat of harm only, after a large number of calls reporting trees down and road disruption.
Council highways teams across the region have been put on standby to remove obstacles such as fallen trees and to close roads affected by debris.