East of England Ambulance Service: Delays 'could take two years to solve'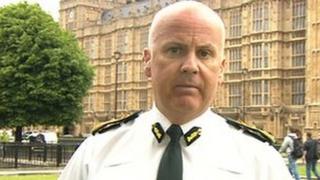 The new chief executive of the East of England Ambulance Service said it could take two years to solve the problem of ambulance delays in rural areas.
Dr Anthony Marsh said 400 new paramedics were being recruited, but that the process would take time.
Last month the Care Quality Commission said the service had improved, but was still not responding quickly enough in life-threatening cases.
Dr Marsh met MPs from the region on Tuesday to update them on progress.
Dr Marsh, who took charge of the trust six weeks ago, said: "It was incredibly beneficial to meet with East of England MPs today, to hear their views about the service in their area and to assure them that progress and actions are already under way.
"The MPs were very supportive of the trust and the actions we are taking and it is reassuring to know we are all working together to turn this into a high-performing ambulance service."
He told BBC Look East the problem of ambulance response times would not be solved immediately, and that it would take until June before the first cohort of new paramedics were operational.
He said the trust had taken additional steps to improve cover in rural areas of Norfolk, Suffolk and Essex.
'Strong leadership'
"We have taken some interim measures which will help to improve the service whilst we recruit those first new staff, but of course it will take 14 months to recruit those 400 students," he said.
"My staff are absolutely committed to doing everything we can with the staff we currently have."
He added that "turning round this organisation" and eradicating long delays "it will take two years for us to be able to recruit those paramedics and for them to be fully registered".
Therese Coffey, Conservative MP for Suffolk Coastal, said: "I am impressed by the strong leadership Dr Marsh is already showing and he has made significant changes to the action plan.
"We heard that he will focus on a few key actions of the recruitment of 400 new paramedics, accelerating the ambulance replacement programme, maximising clinical staff on the frontline and reducing overheads to invest in more paramedics.
"Dr Marsh assured us today that there will be 27 more ambulances out on the road by the end of March and up to 50 more next year."