Darren Jeffries jailed for sex attacks on young girls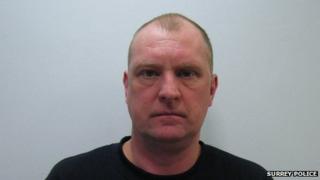 A man has been jailed for 33 years for a series of sex attacks on young girls including rape, grooming and abduction.
Darren Jeffries, 48, of Sittingbourne, Kent, was sentenced at Guildford Crown Court after being found guilty of nine charges in January.
At a trial in October, he was convicted of 11 similar offences.
They included rape, gross indecency with children and causing a female under 13 to engage in sexual activity.
The nine most recent offences were all committed in the Sittingbourne area of Kent, Surrey Police said.
In addition to the prison term, Jeffries will serve an extended period of six years on licence, the Crown Prosecution Service said.
'Sickening'
Jeffries often took his victims to motels where he would engage in sexual activity which he would record on his mobile phone.
The supermarket delivery driver, was arrested after police were alerted about him meeting and grooming a 14-year-old girl in the Surrey Heath area.
After his arrest, mobile phones containing about 1,000 indecent images and videos were seized, Surrey Police said.
Chief Crown Prosecutor Jaswant Narwal said: "Jeffries was a sexual predator who abused and exploited his victims, fully aware that they were under age.
"He prolifically targeted young vulnerable children and exploited their trust in him.
"Jeffries is a danger to society and now he has been brought to justice he will no longer pose a threat."
Speaking after the guilty verdicts last month, Det Ch Insp Juliet Parker said: "The verdicts reflect the truly sickening nature of Jeffries' crimes.
"He had no moral boundaries, abusing whoever he had a predilection towards and actively seeking out young girls on the internet to groom."