Floods: Hundreds evacuated and thousands more at risk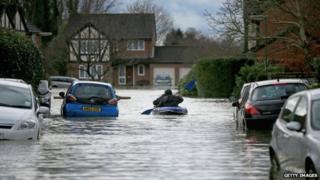 About 1,000 homes on the River Thames have been evacuated and thousands more people are at risk from flooding, the Environment Agency has said.
Fourteen severe flood warnings, meaning a potential risk to life, are in place on the river in Surrey and Berkshire, with a further two in Somerset.
The Met Office has warned of more heavy rain later in the week.
Surrey Police has declared a "major incident" and has deployed more than 100 officers.
The force said it had been overwhelmed with 999 calls overnight and urged people only to call in an emergency.
There are currently 410 tonnes of water passing through Staines every second, and 2,500 homes in the county are at risk of flooding, the spokesman added.
Surrey Fire and Rescue earlier tweeted that firefighters had carried out more than 350 rescues.
Meanwhile, flood victims are being offered shelter at a "refugee centre" set up in Thorpe Park theme park, Chertsey.
Runnymede Council said it also had a 24-hour rest centre available to provide shelter to those affected.
People are being evacuated from properties near to Walton Bridge by the Army.
Soldiers from the Royal Engineers are also helping residents in Thames Meadow, near Shepperton.
Prayers will be said for people affected by the recent floods at St John's Church, Egham, on Tuesday and on Wednesday at Holy Trinity Church in Chertsey.
Runnymede Council has set up a 24-hour rest centre to provide shelter for residents.
Kent and Canterbury Hospital said staff had moved 24 patients from a ward due to rain coming through the ceiling.
Rail passengers to the west of London have also faced major disruption because of the flooding.
Surrey Police Ch Supt Matt Twist said: "Officers and staff from Surrey and Sussex Police are working around the clock to assist in supporting local residents affected by the severe flooding.
"Our staff continue to go above and beyond the call of duty.
"This is a challenging time for everyone involved and we are working closely with the fire service, the military and local authorities to keep people safe and help them protect their properties."
First Great Western said it would only be able to run four trains an hour between Reading and London Paddington because of flooding near Maidenhead, Berkshire.
South West Trains, Southeastern and Southern are also operating very limited services.
The water is lapping at the door of Mike Berwick's house in Chertsey Lane, Staines.
He has moved valuable and important items upstairs, but added: "We're all very stressed. We have been watching the water coming up for days.
"It is the creeping inevitability of it all that is the worst bit.
"The Army delivered some sandbags but at this stage how can you hold it back?
"It's utterly extraordinary and unprecedented, but it is down to 50 years of neglect not five weeks of rain."
Homes, shops and businesses in Datchet, Berkshire, remain waterlogged after the village saw major flooding on Monday.
Georgia Fletcher has been forced to leave her home in Wraysbury.
"It's not good here. Normally you can get down the road in just waders but it's too deep now. The water is up to the top of my thigh," she said.
"I can't get anywhere near Wraysbury. We had sandbags delivered yesterday.
"It's distressing not being able to get back to your own house. My bedroom is on the ground floor. You don't know what you're going to come back to."
Defence Secretary Philip Hammond was challenged by residents in Wraysbury, who said they were "seriously in need" of military intervention.
Mr Hammond said the "government has got a grip on this" but authorities cannot "prevent the course of nature".
Tim Ashburner, from Marlow in Buckinghamshire, said: "If I was sitting in my chair in the studio today the water would be coming up to my waist.
"The graveyard is flooded and there is no difference between upstream and downstream over the Marlow weir.
"There's a lot of anger here."
Thames Valley Assistant Chief Constable Chris Shead said: "We are continuing to work with local communities and partner agencies to minimise the impact of flooding and protect as many homes and buildings as we can.
"The flooding in the whole of Thames Valley has been declared a major incident, which is declared when an incident requires a significant multi-agency response."
The Met Office has issued a yellow "be aware" warning for rain in the south-west, south and south-east of England as well as parts of Herefordshire, Shropshire and Worcestershire.
Dawlish railway
Flood levels on the River Severn in Worcestershire could rise further, according to the Environment Agency.
Chris Bainger said levels in Worcester were "steady" at 5.22m and could rise further on Thursday to about 5.6m - "very close" to the 5.66m recorded in the summer of 2007.
About 100 houses in Worcestershire and Herefordshire have been flooded. On Monday Worcester's main road bridge was shut for 24 hours because of the water levels.
Water continues to surround properties in the village of Moorland on the Somerset Levels near Bridgwater.
On Tuesday, Prime Minister David Cameron visited Dawlish on the Devon coast where the railway line was wrecked in a storm.