Essex MP Sir Alan Haselhurst fights to stand aged 77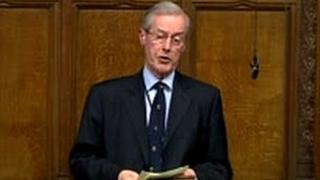 It seems another of the east's MPs is having to fight his corner. This time it's Sir Alan Haselhurst in the firing line, facing questions about his future.
Like the recently deselected Conservative MP Tim Yeo, he's been a member of the House of Commons for decades, like Mr Yeo he's been returned with large majorities but unlike Mr Yeo there do not seem to be concerns about his visibility as Saffron Walden's MP.
Nevertheless, he has been forced to write to his local party to scotch the rumour that he was going to stand down at the next election.
Nothing is further from his mind apparently. In his letter he rejects any impression that he was to retire.
No, Sir Alan is determined to fight his 10th election and add another term to the 36 years he has already spent in parliament.
No-one is speaking about it openly but we believe that a few people in the local Conservative association are questioning whether it's time for him to retire.
He's played a leading role in the campaign against a second runway at Stansted and is currently fighting for improvements to the West Anglia rail line.
Sir Alan is telling friends he hopes his party will back him - he still wants to do the job and believes that at 82 he would still have a lot to offer.
He's in good company. Luton's Kelvin Hopkins will be 73 and Colchester's Sir Bob Russell a comparative youngster at 69 come the 2015 election.
Reselected
The region's longest-serving MP has been reselected to stand at the next general election.
Sir Alan Haselhurst will continue to be the candidate for Saffron Walden in 2015.
Although doubts surfaced at the meeting to discuss his future, he will retain his title as the region's oldest MP.