Councils battle between themselves over HS2 station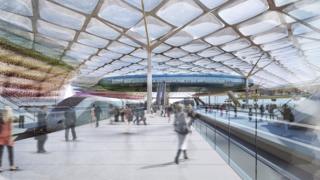 Divide and Rule - it's a tactic employed by the great generals in ancient classical armies, by feudal kings and by modern-day political power brokers.
And now the company charged with delivering the first stage of the £42bn High Speed Rail project, HS2 Ltd, is being accused of doing it too.
Trevor Forrester is one of the "Stop HS2" campaigners in Staffordshire who say HS2 Ltd are tacitly encouraging local authorities to fight one another over where HS2 stations should be built. The (conspiracy?) theory is that while councils are fighting each other, they are not fighting HS2 itself.
HS2's opponents say whatever the merits or demerits of the arguments themselves, the net effect is to keep them "on board" with the government.
The converse may be equally true.
Crewe or Stoke-on-Trent?
The moment ministers decide which towns or cities should have HS2 stations and which should not, the chances increase that the unsuccessful councils may join the ranks of those influential authorities including Staffordshire, Warwickshire and now Coventry who unequivocally oppose the entire project.
Take, for example, the tug-of-war between Labour-controlled Stoke-on-Trent City Council and the Conservative-controlled Cheshire East District authority.
At issue is the question of whether Stoke or Crewe should be awarded its own place on the high-speed route-map.
The government's preference is for trains on the spur between Liverpool and the high-speed line, north of Birmingham, to stop at Crewe where there would be frequent connections to and from Stoke-on-Trent.
Not surprisingly this is the proposal supported by East Cheshire's Conservative Leader, Councillor Michael Jones.
But it is vehemently opposed by the Labour Leader of Stoke-on-Trent City Council Mohammed Pervez. He and his councillors have their own ambitious alternative.
They want a full-scale HS2 station on the main line between Birmingham and Manchester. It would be on a site rich in local symbolism; a place which used to be one of North Staffordshire's gigantic industrial landmarks, the former Shelton steelworks. Ten thousand people worked there in its heyday. But its closure 14 years ago became emblematic of the general economic gloom settling over the area as a whole.
Hope for the Potteries?
No wonder Stoke council sees the HS2 station as a demonstration of their commitment to breathing new life into the Potteries' economy.
But "Stop HS2" campaigners think that instead of battling over their own rival HS2 schemes, they should join those other, bigger authorities who have come out against it.
This week's Sunday Politics Midlands will be largely devoted to this question which could well dominate our region's politics for decades to come.
Joining me in the studio will be a suitably senior line-up of guests.
Alison Munro, the chief executive of HS2 Ltd; the Financial Secretary to the Treasury and Conservative MP for Bromsgrove Sajid Javid; and the former Shadow Business Secretary and Labour MP for Wolverhampton South East Pat McFadden.
And I hope you will join us too, in our usual 11.00 slot on BBC One Midlands this Sunday, 16 February 2014.