Cambridgeshire beet to help flooded Somerset livestock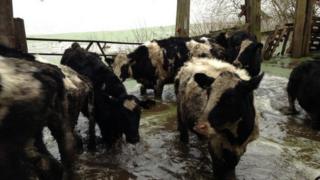 Livestock farmers struggling to feed their animals after the floods in Somerset are to receive donations of sugar beet.
Food producers in Cambridgeshire are sending 145 tonnes of beet to Somerset, delivered free by some of the county's hauliers.
Co-ordinator George Munns said: "We've never got anything spare but their needs are greater than ours."
The beet is expected to arrive in Bridgwater for distribution on Tuesday.
'Massive response'
Arable farmer Mr Munns, from Chatteris, said he "hatched the plan" with neighbouring food producer Andrew Wagstaff, after he heard some Somerset farmers had run out of feed.
At this time of year, cattle on the Somerset Levels would usually be grazing on fields which are now under water.
Mr Munns donated 85 tonnes of beet "worth just over £2,000" and once word spread, other sugar beet producers came forward.
He said: "We've got a massive response as well from local hauliers, who are offering their services free to go down to Somerset with this sugar beet."
The feed will be taken to an auctioneers in Bridgwater, where there is hard standing to unload the deliveries for distribution.
Mr Munns said: "As far as I'm aware, we're the only ones donating stock feed - but there's straw and hay coming in all over the country."
His crop was due to be sent to the British Sugar factory in Wissington, Norfolk, for processing into sugar.