Warwickshire Police badge and logo axed from patrol cars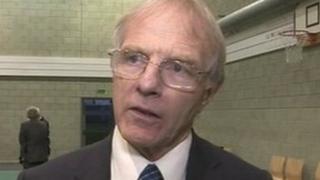 Warwickshire Police branding has been removed from some vehicles without the authorisation of the police and crime commissioner.
Ron Ball said he had learned cars were being rolled out without the word Warwickshire or the county logo.
West Mercia Police launched an alliance with the force last year. Mr Ball said he would be discussing the matter with the chief constable.
New vehicles "likely to cross borders" will just have "Police" on them.
'Brought to attention'
Safer neighbourhood vehicles will keep the Warwickshire branding.
Mr Ball said he did not know why he was not part of the branding decision, but said he believed it was approved by the chief officers.
"It's not clear why this did not come through my office, but to be absolutely honest I don't want to spend time going back through things and emails," he said.
"I want to make sure the badges are not removed from local vehicles and that everybody needs to understand that this needs to be brought to my attention."
Some believe a full merger between the two forces is inevitable. They are currently sharing resources to make savings of £30m by 2015.
"There is universal agreement across the alliance that a merger will not take place before 2016," Mr Ball said.
Warwickshire Police is yet to comment.