South West Water to spend £160m on improvements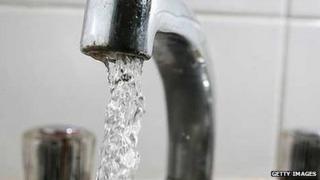 Customers of South West Water (SWW) will have frozen bills for 2014-15 and the company will spend £160m on improvements, managers said.
The firm said the price freeze would apply to all standard household and business tariffs, and would also apply to standing charges.
It aims to invest in flood prevention, improving water quality, plus reservoir and sewage treatment improvements.
More work would also be carried out to prevent sewers flooding, it said.
SWW chief executive Chris Loughlin said "many will see their water bill reduce" as a result of the freeze.
Sewage work will include reducing blockages and overflows, along with developing ways of storing storm water, which would be released slowly when bad weather passes.
A government contribution of £50 per household, brought in last year, was instigated after Chancellor George Osborne said the South West region's bills were "unusually high".
The company's bills rose 4.7% last year, bringing an average household bill to £543, compared to the average in England and Wales of £376.
SWW has however, pledged below-inflation rises until 2020.
The company, which supplies Devon and Cornwall, as well as parts of Dorset and Somerset, is responsible for dealing with surface water and sewer flooding, as opposed to the coastal flooding in recent days.