Your ideas wanted to revive Dunston Staithes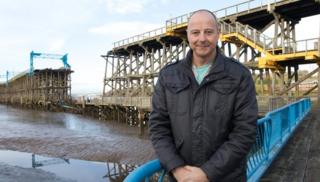 You can't miss the Dunston Coal Staithes. Iconic, massive and in need of tender loving care.
It dominates the horizon along the banks of the Tyne, a powerful symbol of the region's industrial might.
Rail wagons from North East pits would leave the security of dry land to be carried over the water's edge.
They'd hover above the river before tipping thousands of tons of coal into the hungry bellies of eager ships.
In one year alone 5.5 million tonnes were despatched from Dunston. At times they'd be queuing in the river to get hold of the "black gold".
That gold rush is now a distant memory.
Under attack
Reputedly Europe's biggest wooden structure, it has lain dormant ever since the pits closed.
While it slumbered it's been gradually decaying, but it's also been attacked.
Fire destroyed a large middle section and, where it meets the land, the wooden pillars have also been burnt away.
Now things are looking brighter.
The Tyne & Wear Building Preservation Trust has secured nearly £1 million worth of funding to bring it back as a visitor attraction.
But exactly what should that be?
The trust is looking for ideas and your suggestions.
Proposals include making it part of the Sea to Sea cycleway which already passes nearby.
Exhibitions, markets, and artworks could also find a new home here.
The yawning gap left by the arsonists could become an adventure rope crossing.
Or why not take a leaf out of New York's book where an abandoned aerial cargo rail line was turned into an urban park in the sky called High Line.
Over to you
Let your imagination run wild and post your ideas in the comments section below.
The Building Preservation Trust hopes, with your help, to transform a neglected bit of our heritage.
Who knows, it may yet become as popular as the Angel of the North?
Inside Out can be seen on Monday, 10 February 2014 at 19:30 GMT on BBC One in the North East & Cumbria and for the following seven days on the BBC iPlayer.