Al-Madinah free school in Derby to stop secondary education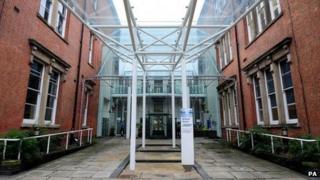 Secondary education at the troubled Al-Madinah free school in Derby will stop in the summer because of government concerns about the quality of teaching.
A report from Ofsted in October found the Muslim faith school was chaotic, dysfunctional and inadequate and it was placed in special measures.
The primary school will remain open, the Department for Education has said.
The schools minister Lord Nash has written to the school trust chairman to confirm the secondary school closure.
It will close at the end of the summer term with support promised to help the 137 pupils find new schools.
'Focus efforts'
In a letter to Barry Day, the school's newly appointed chairman, Lord Nash said he was concerned about the poor quality of secondary teaching.
He said: "It was not in the interests of parents and pupils at the secondary school to continue to fund provision which has failed them."
Mr Day said in a letter to parents that he accepted the assessment and would find places for pupils in other local schools.
He confirmed that the primary school would remain open and improving it would be his main focus.
"Our vision remains to establish the Al-Madinah School as an outstanding all-through school for all members of the local community in and around Derby," he said.
"Every single member of staff wants this school to be successful but there is absolutely no doubt that many of the staff are inexperienced, some of the staff are not qualified and all of them need additional training to make this work."
He added it was "absolutely accurate" to describe the previous operation of the school as amateur but the closure now offered "the chance to turn things around".
A Department for Education spokesperson said in a statement: "The vast majority of free schools are performing well but where we have found failure we have acted swiftly and decisively.
"We have monitored Al-Madinah very closely since problems came to light last year.
"Based on the current situation we believe the new board - which began work last week - needs to focus efforts on the primary school in order to bring about the level of improvement required."
Tristram Hunt MP, shadow education secretary, said the Al-Madinah school proved the government's policy was damaging education because of "unqualified teachers" and a "lack of oversight".
Arshad Mohammed, who has a daughter in the secondary school, said he was not surprised.
He said: "With all the negative media attention that's been going on in the last year or so the numbers [of pupils] have dropped a little bit… they can't sustain the numbers so it's not financially viable to keep the school running."
Al-Madinah: The story so far
September 2012: Al-Madinah school opens
August 2013: The Education Funding Agency confirms it is investigating alleged financial irregularities at the school
September: The school faces allegations it is imposing strict Islamic practices
1 October: Ofsted visits Al-Madinah after the DfE asks for an inspection to be brought forward and findings are so bad the school is closed over "health and safety concerns"
7 October: The school reopens
8 October: Education Minister Lord Nash lays out 17 concerns about the school, including segregation of the sexes, and says it will close unless "unacceptable" teaching standards improve
14 October: The school amends its policy to make clear women do not have to wear head scarves
17 October: The school is described by Ofsted inspectors as "dysfunctional"
25 October: Muslim community leaders in Derby call for the school governors to resign
22 November: Lord Nash announces a new education trust will be brought in
12 December: Ofsted reports "no signs of improvement" following a monitoring inspection
31 January: Barry Day of the Greenwood Dale Foundation Trust (GDFT) takes over as the school's chairman
7 February 2014: Lord Nash announces secondary education will stop at the school