Tommy Walsh's daughter's nightclub attacker jailed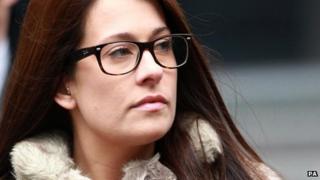 A mother of two who used a glass shard to slash the daughter of Ground Force star Tommy Walsh in a nightclub attack has been jailed for five years.
Leanne Bloomfield, 29, from Colchester, slashed 22-year-old Natalie Walsh across her neck at Cafe De Paris in London's West End last February.
She was convicted during a trial at Southwark Crown Court last month.
Judge Peter Susman QC said: "Quite why your attack on her was so violent remains unclear to me."
'Massive punch-up'
The court heard the attack on 3 February last year left Ms Walsh with a cut to her neck and a severed tendon in her thumb.
She required stitches and later underwent cosmetic surgery on her injuries.
The court was told Bloomfield had texted a friend after the attack to say she had had a "massive punch-up with some girl".
The text added: "Me and my sister did a number on her, she was in a heap. They didn't catch me, ha ha."
'No winners'
Judge Susman said he had taken into account the health of the defendant, who suffers with heart murmurs and is diagnosed with depression.
He said the sentence had been reduced from six to five years to take into account the defendant's children - a five-year-old daughter and two-year-old son - who "are the ones who are going to suffer".
Mr Walsh, the celebrity builder who found fame in the BBC gardening show, told reporters last month his daughter had deferred her final medical exams after the attack, but had gone on to achieve a first-class degree.
"It was really tough but we are a really close-knit family," he said.
"There are no winners in this.
"She [Bloomfield] has two children. You should think about your behaviour before you go and behave drunkenly or laddishly."