Cornwall river plunge driver 'thought of sons'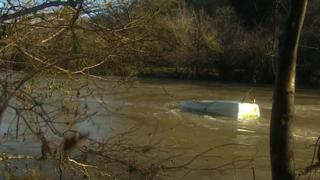 A man whose van crashed through a bridge and plunged into a river in Cornwall has said the thought of his two young sons kept him alive.
Dan Behennah, 30, from Tavistock, Devon, broke his collarbone in the accident near Gunnislake on Saturday.
He climbed on to the van's roof and jumped into the water before swimming to the bank and pulling himself out by grabbing overhanging tree branches.
Mr Behennah believes the van skidded on ice as he drove towards the bridge.
He was on his way to pick up two-year-old Freddie and one-year-old Max when the accident happened.
"I'm just so lucky to be here," he told BBC Spotlight.
"Someone must have been looking down on me that day - a guardian angel or something - but that's one of my lives gone.
Mr Behennah said he knows the Callington to Tavistock road well and has travelled it so many times he "could do it with my eyes closed", but on this occasion the van "slipped", hit the corner of the bridge then ploughed through the wall.
"I knew I was going through, but there was nothing I could do about it," he said.
As the van was about to hit the water, Mr Behennah said he thought he was going to die.
"I remember thinking 'this is it - this is the end', then I had thoughts of the boys and they kept me strong and made me fight because they need me around," he said.
The accident has closed New Bridge for at least a week, leaving drivers with lengthy detours and making Mr Behennah feel like "public enemy number one".
"I'm so sorry everyone has to go the long way round," he said.