Carl Weston jailed for life over 'violent' rape and false imprisonment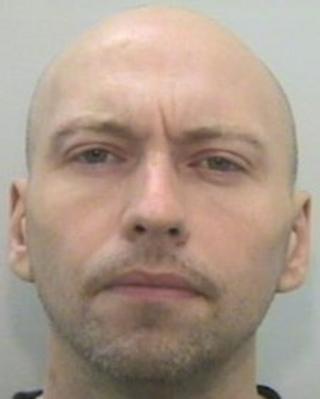 A man who subjected one woman to a "violent beating" before raping her and held another captive has been jailed for life.
Carl Weston, 42, of of Shady Lane in Wythenshawe, Manchester, was convicted of rape, assault and false imprisonment at Manchester Crown Court in December.
Weston admitted assault but denied the other charges relating to women from Greater Manchester and Lancashire.
He was ordered to serve a minimum of seven years and 330 days.
Weston was cleared of a second count of rape.
'Extremely agitated'
Det Con Siobhan Emmett said Weston subjected one victim to a "sustained, violent beating" in a house in Wythenshawe before raping her in December 2012.
A police spokesman said during the attack, Weston punched the woman so hard in the mouth that her upper lip split entirely between her lip and her nose.
He said Weston had also sprayed deodorant in the woman's eyes, threw hot tea over her, hit her with a brush and strangled her before raping her.
He added that Weston had been "extremely agitated" after confronting the woman over an unpaid drugs debt of £600, demanding she help him pay and attacking her when she refused.
Ms Emmett said the woman had been "so badly injured that she had to cut some of her hair off to remove clotted blood and the tea that had been thrown over her".
"His actions were violent, cowardly and wicked and purely to satisfy his own needs.
"He deserves every second of his prison sentence."
Weston was also sentenced to two years to run concurrently for false imprisonment of a woman in Fleetwood in Lancashire.