England-wide heroin and crack cocaine drugs gang jailed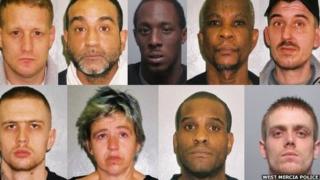 Nine people have been sent to prison for conspiracy to supply Class A drugs across England.
The gang's headquarters was in Worcestershire, but it operated in Liverpool, Widnes, Birmingham, Ipswich and Coventry.
The ringleader, Craig Wright, ran the group while he was already in prison for firearms offences and drug dealing.
Eight men and one woman were jailed for between one and nine years, a man and a woman were given suspended sentences.
Wright, 29, who used threats of violence to control his drug supply on the streets of Worcester, communicated via illegally held mobile phones, West Mercia Police said.
'Slash faces'
All the male gang members pleaded guilty at Birmingham Crown Court to charges of conspiracy to supply heroin, crack cocaine, amphetamines and cannabis.
Tina Brophy, 40, of Carlisle Road, Worcester, had been found guilty of conspiracy to supply drugs after a trial in July 2013, and was sentenced to five years in jail.
Wright's girlfriend Chantelle MacDowell, 27, of Redbourne Avenue, Liverpool, was given a sentence of 18 months suspended for two years for money laundering.
Wright, originally from Liverpool, also admitted money laundering.
He was sentenced to 13 years, reduced to eight years and eight months because of his guilty plea.
Michael O'Dell, 40, allowed his flat in Teme Road, Worcester, to be used as a drug dealing base, and was jailed for one year and eight months.
It was outside O'Dell's flat that Adrian Locke, a user who had gone there to buy heroin, was murdered in January 2013.
'Vulnerable users'
Qamar 'Doc' Zaman, 45, of Shirley Road, in Hall Green, Birmingham, a Birmingham-based wholesale drug dealer who sold large quantities of drugs to Wright and his dealers, was jailed for eight years.
Sanchez Hamilton, 24, from Ipswich, described by police as one of Wright's "most trusted drug dealers" after meeting in prison, was given a seven-year sentence.
Det Sgt Tony Garner said: "Craig Wright would use vulnerable drug users and juveniles outside the prison as expendable front men for his dealing.
"Phone calls recorded from prison and text messages recovered showed Wright threatening a whole range of violent acts including threats to hunt people down, slash faces, carve people up, spray houses with bullets and burn down houses," he added.
The other four jailed on Thursday were:
Robert Tallis, 25, originally from Coventry, sentenced to six years
Calville Wiggins, 57, of Headingly Road, Birmingham, sentenced to six years
Abdul Rashid, 33, of Kitsland Road, Birmingham, sentenced to four years and four months
Aiden Collins, 24, of Peterhouse Close, Ipswich, sentenced to two years and eight months
Nicholas Clarke, 35 of Windsor Avenue, Worcester, was given a two year sentence suspended for two years.