Scottish independence: MP Rory Stewart wants Hadrian's Wall hand-holding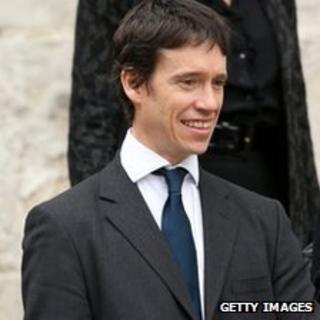 A Cumbrian MP is urging people to hold hands along Hadrian's Wall to prevent Scotland voting for independence.
Rory Stewart is calling for an event on 19 July to "show the love that exists between the four nations of the union".
The Conservative MP for Penrith said Scotland would be missed for personal reasons, so the argument for keeping the union should be on those terms.
Linking hands along the "old border" of the Roman wall would demonstrate how much the rest of the UK cares, he said.
'Human expression'
Speaking in the House of Commons debate on Scotland's place in the UK, Mr Stewart said: "It cannot be simply economics.
"If a relationship is going wrong, if a marriage is going wrong, the answer cannot simply be to say 'you can't afford to break up because you are going to lose the house'.
"The answer has to be only one thing, which is 'I love you'."
He added: "What we need is the human expression.
"On 19 July this year I'm hoping that 100,000 people will gather along that old, foreign, Roman wall - English, Welsh, Irish, Scots, holding hands, linking arms across that border.
"Because in the end what matters is not the wall that divides us but the human ties that bind in the name of love."
The SNP refused to comment specifically on Mr Stewart's suggestion, but speaking in the debate, SNP MP Pete Wishart said that he did not "like where the UK was going".
He said Westminster legislation such as the Immigration Bill showed UK politics was becoming a "monstrous race to the bottom between this government and UKIP."