Police commissioners reject 'national' water cannon plan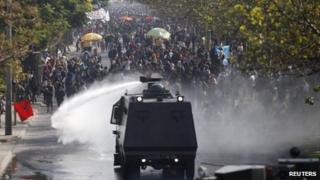 Police and crime commissioners from some of the largest police forces in England and Wales do not support plans for a national water cannon project.
The Metropolitan Police and Mayor of London Boris Johnson want to buy three cannon from Germany for £90,000.
The Association of Chief Police Officers (Acpo) said they would be a "national asset".
But forces in Manchester, Thames Valley, Merseyside and the West Midlands do not want them.
Water cannon have never been used before in England or Wales.
Proposals by West Mercia Police Chief Constable David Shaw, who is leading the project for Acpo, suggested regional forces could contribute money to pay for the machines.
West Midlands Police Commissioner Bob Jones said they would be "as much use as a chocolate teapot" in stopping disorder.
"I fail to see why we should pay towards a provision I cannot see us using," he said.
'Completely ineffective'
Mr Jones said the cannon would have been "no use whatsoever" in restoring order during the 2011 riots.
"If the Metropolitan Police feel differently, then the Met should pay for it," he said.
Merseyside PCC Jane Kennedy said she believed water cannon would be "of limited value" for the region and she would not want to see resources diverted to buy them.
In Greater Manchester, PCC Tony Lloyd said "no convincing argument has been made" about how the cannon could improve policing or public safety.
"They would have been completely ineffective on the streets of Manchester and Salford during the 2011 riots," he said.
Thames Valley PCC Anthony Stansfeld said his area did not currently require a water cannon.
'Gap in the armoury'
Acpo president Sir Hugh Orde said on Tuesday that the cannon can help "to buy you space in certain situations".
Their purchase could fill "a gap in the armoury in England and Wales", he told the London Assembly Police and Crime Committee.
He deployed the machines while Chief Constable of Northern Ireland between 2002 and 2009.
"Without it, I would have had more injured officers," he said.
Police authorities in London are expected to make a final decision later this month on whether to proceed with the plans.