Devon and Cornwall storm causes 'devastation'
"Devastating" weather in south-west England has seen people evacuated from damaged homes and trapped in cars, boats sunk and railway lines closed.
In Dawlish, Devon, 20 people were evacuated from homes and the sea wall under the main rail line collapsed.
A number of properties in Kingsand in Cornwall were evacuated after it became swamped by huge waves.
Widespread flooding has been reported across the region and councillors said damage would cost millions to repair.
Police in Kingsand said they had to evacuate houses that had been damaged by stones being washed ashore, which smashed windows.
The clock tower was "in a dangerous condition", Cornwall Council said.
Cornwall Council's leader John Pollard said the cost of storm damage was "rising to £10m as we speak".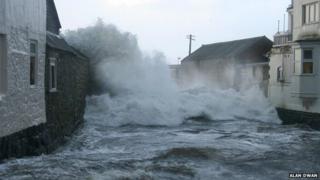 Across the region several severe flood warnings, which indicate a possible danger to life, have been issued by the Environment Agency.
It said some coastal defences had been damaged and some river catchments remained "extremely sensitive to any further rainfall".
Flooding was reported in Newlyn, St Mawes Perranporth, Looe, Kingsand, Cawsand, Plymouth, Torcross, Dawlish and Exmouth.
In Porthleven, Cornwall, six boats sank as the outer harbour was breached.
In Millendreath, Cornwall, the coastguard said up to 40 holiday homes were flooded, with about half being occupied.
Fire crews rescued an elderly disabled man from his home and took him to another property in the village.
About 20 properties were evacuated in Torcross in Devon. Locals told the BBC recent storms were the worst for more than 30 years.
Two people were rescued from a vehicle trapped in floodwater in Marine Parade, Dawlish, at about 21:20 GMT on Tuesday.
Up to 150ft (46m) of railway track has been destroyed and Dawlish station has also been damaged, Network Rail added. Nearby homes and other buildings were also damaged.
The main Exeter to Newton Abbot railway line has been closed.
Network Rail estimates damage caused in Dawlish will take "at least" six weeks to rectify.
Limited rail services have resumed between Plymouth and Penzance, with rail replacement transport due to become available from Thursday.
Exeter's Labour MP, Ben Bradshaw, called for the government to look at moving part of the line inland.
He said: "We have now, in the South West, been cut off two years in a row - it has a devastating impact."
A navy bomb squad was dispatched to Exmouth seafront in east Devon to deal with a suspected device found under an ice cream hut.
It was believed to be a smoke grenade unearthed by storms. A 60m (200ft) exclusion zone was put in place.
Mr Pollard, Cornwall Council leader, has demanded immediate action by the government to repair the storm damage in the region and restore the rail link.
Prime Minister David Cameron announced an extra £100m for flood repairs across the country.
After chairing a meeting of the Cobra emergency committee, he said he had seen "the shocking pictures of the destroyed train line in Dawlish".
He added: "I am determined that while it is out of action the public get a proper alternative service and a solution is found to fix it, as soon as possible."
Winds of up to 92mph (148km/h) were reported in the Isles of Scilly.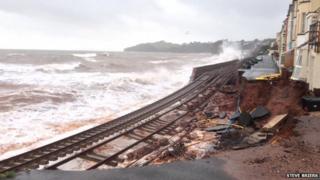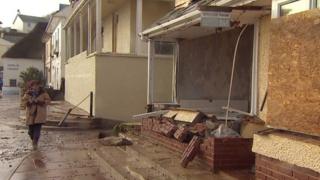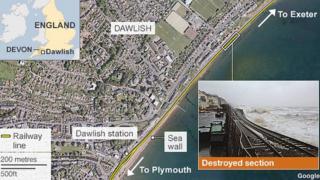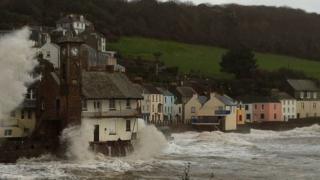 Network Rail engineers said about 100ft (30m) of sea wall in Dawlish had been washed away by the waves.
County councillor John Clatworthy said: "I have lived here [Dawlish] for 44 years and I've never known an event like this."
In Topsham, Thomas Burdick said: "You could see people walking down the Strand and the water was up to their waists - a good half metre to a metre deep."
In Porthleven, Michelle Powell, from the Horse and Jockey Bakery, said: "I have never seen it as bad as this in 50 years."
BBC Spotlight reporter Philippa Mina said: "Porthleven's outer harbour has been breached, which means the inner harbour is now at risk."
BBC Radio Cornwall's Donna Birrell said: "It's a desperate situation - teams of men are trying to haul boats out of the water to rescue them.
"There are at least 40 boats at risk - six have sunk already and the sea is thick with debris, including big pieces of granite, driftwood and buoys."
The sunk vessels, including 20ft and 16ft (6m and 4.8m) long boats, sank in "horrific" conditions, resident Mike Pascoe said.
Elsewhere in Cornwall, the county's council said it was concerned about Mullion's sea wall, with ongoing issues at Penzance pier and promenade, and St Mawes' harbour wall.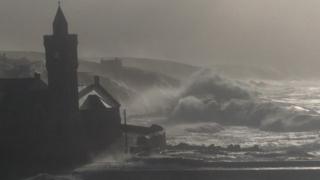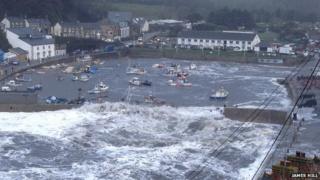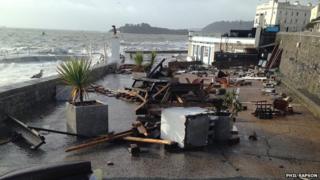 'Roads breaking-up'
Police and councils said they would remain on standby overnight on Wednesday to deal with any problems caused by the weather and British Red Cross volunteers have been supporting people affected.
About 5,000 households in Cornwall and 1,200 in Devon still have their electricity cut off, according to Western Power Distribution.
Are you in the flood-affected areas? Have you been left without power? Email us Haveyoursay@bbc.co.uk. Please write Devon storms in subject. At no time should you endanger yourself or others, take any unnecessary risks or infringe any laws.