Nazi invasion 'A to Z of Britain' maps sell at auction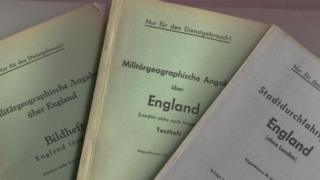 A set of maps prepared by the Nazis for Adolf Hitler's planned invasion of Britain has sold for £351.
The documents from World War Two contain coastal diagrams, town plans and landmarks such as Blackpool Tower and the Mersey Tunnel.
Described by experts as a Nazi A to Z of Great Britain, the maps were bought by a telephone bidder.
They show every attack point and weakness on England's coast ahead of the Germans' assault in September 1940.
After the fall of France in June 1940, Hitler ordered his generals to organise the invasion of Britain - a plan he named Operation Sealion.
With that in mind, a complex set of documents - Militargoegraphiscke Angaben uber England Sudkuste - were drawn up.
The Imperial War Museums' catalogue details the books as "containing aerial photographs of strategic sites, maps of the main urban centres, a detailed listing of British roads, advice for officers about how to mount an attack on each county, a brief description of the social composition of Britain, and a dictionary and phrase book."
Richard Westwood-Brookes, a historical document expert at Shropshire-based Mullock's auctioneers, which sold the books, said they were a chilling reminder of what could have happened.
"It's very uncomfortable to think that Hitler had such detailed plans for Britain," he added.