Flooding: New law proposed to keep drains clear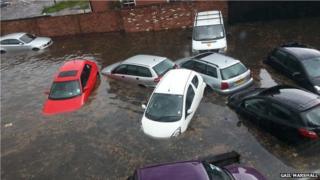 Politics is about timing and a back-bench Conservative MP might just be in luck.
Before the current flooding crisis, the Nottinghamshire constituency of Sherwood MP Mark Spencer had been affected by a series of flash floods last year.
He's proposed a Parliament Bill to make ensure that new housing developments, especially in more rural areas, don't overload a drainage system already under pressure.
Without government backing, his Bill would run out of parliamentary time.
But this winter's flooding crisis has left the government looking exposed, and Downing Street wanting to be seen taking swift action.
So could Mark Spencer's proposed law be a quick win?
He wants the highways authorities, that is county councils, to have overall responsibility for ensuring that developers consider flood protection when seeking planning permission.
His concern is that developers don't have to worry about effects of extra homes on the capacity of the existing drainage network, especially as village communities expand.
"Sadly the drainage systems of those villages have not grown at the same rate," he told me.
"The villages today are faced with sewage systems that are already under enormous pressure and have a high risk of flooding during prolonged or heavy rain fall."
As Prince Charles was visiting flood-hit communities in Somerset, Mark Spencer's parliamentary measure sailed through the Commons for a second reading at the end of February.
"My Bill will make sure that in every new build, the planning authority must ensure that the developers have plans to put in place drainage systems that are sufficient and fit for purpose," he added.
Hurricane Katrina
His Bill coincided with confirmation that the government has set aside £7m to help communities affected by the severe winter.
The little-known Bellwin scheme allows local councils to tap into emergency government funding to help repair flood-damaged roads and bridges. Since the winter storms started in early December, 53 local councils have applied for the aid.
The Local Government Minister Brandon Lewis wants to give an impression of a government reacting to the crisis.
"I have already had talks with authorities from East Anglia, Kent, Yorkshire and Humberside," he said.
"I will meet with leaders from the other affected areas and voluntary sector organisations to help them tackle community impacts and damage."
But could this crisis become David Cameron's very own Hurricane Katrina?
That weather crisis caused huge political damage to former President George W Bush because of a perceived lack of urgency when the hurricane hit New Orleans.
David Cameron is a sharp enough politician to understand that.
So if he's looking for a quick fix, watch the progress of Mark Spencer's unassuming parliamentary Bill. It might just become law.