Bishop Nick Baines to oversee West Yorkshire and the Dales diocese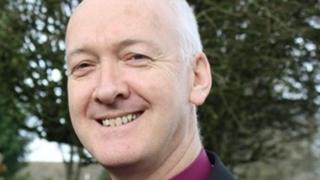 The first bishop of what will be the largest Church of England diocese has been announced.
The Right Reverend Nick Baines has been nominated as Bishop of Leeds, overseeing the new Diocese of West Yorkshire and the Dales.
The diocese replaces the dioceses of Bradford, Ripon and Leeds, and Wakefield on Easter Sunday.
The Archbishop of York, Dr John Sentamu, said he was "delighted" with the nomination of the 56-year-old.
Bishop Baines has been the Bishop of Bradford for three years and was previously the Bishop of Croydon.
He attended the University of Bradford and before ordination in 1987, he worked for four years as a linguist specialist at GCHQ.
Bishop Baines said he was "fully aware of the challenges this brings, but am confident that this new diocese will thrive".
'Well-grounded understanding'
Bishop Baines is known for his media work and has appeared on the Chris Evans Show on BBC Radio 2 and on BBC Radio 4's Thought for the Day.
He also writes a blog called Musings of a Restless Bishop and has thousands of followers on Twitter.
Dr Sentamu said Bishop Baines "brings a well-grounded understanding of the area he will serve, together with the vision, energy, and experience in strategic change, which will equip him for his ministry".
The new diocese, which comes into being on 20 April, covers five church areas - Bradford, Huddersfield, Leeds, Ripon and Wakefield - and each will have its own Area Bishop.
It will be home to three cathedrals - in Bradford, Ripon and Wakefield - and have almost 500 clergy, 656 churches and 256 Church of England schools.
It will run from Barnsley in South Yorkshire through West and North Yorkshire to parts of County Durham, covering 2,425 square miles (6280 sq km) and serving a population of 2,614,00, according to the Church of England.