UK floods: Devon and Cornwall businesses count cost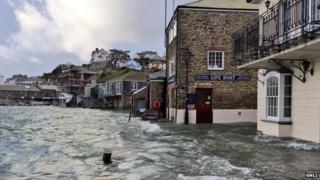 Businesses flooded several times in just a matter of weeks have been counting the cost after huge waves and strong winds battered coastal communities.
The Met Office said the period between December and February was the stormiest winter across the south-west of England for almost 20 years.
The figures were based on analysis of wind speeds above 50 knots (58mph) at a number of weather stations.
BBC News has been speaking to some of the worst affected businesses.
The Ship Inn, Mevagissey, Cornwall
"On Valentine's night, couples had reserved tables hoping for a quiet meal, only to find water flowing in like a river," said owner Diane Young.
"Most people thought it was quite funny," she added.
The inn, which was flooded by the sea, the drains and a river, was hit three times in four days, with water 1ft (0.3m) deep on one occasion.
Ms Young said the inn had been flooded up to eight times since 1 January and was too expensive to insure.
"Several thousand pounds worth of damage has been caused to stock and drink fridges," said her 23-year-old son, Jack Young.
The family has lived in Mevagissey for 12 years and took over the running of the pub a year ago.
"We knew what was going to happen when we took it on... it's not something we're going to give up on." he added.
Ms Young said there had been "a lot of cleaning" but the floods had "not held us up", it was just about "getting used to it".
Seaton Beach Cafe, Seaton, Cornwall
"I've lost count how many times the cafe has flooded or been damaged by storms, but it's probably four or five times this year," said owner Nicky Barry.
"It looks horrendous... it looks like a war zone.
"When we start to clear it up, hopefully it will not be as bad as it looks."
Before 2014's storms, the beach cafe had only been damaged once in the past 10 years.
Ms Barry had invested up to £40,000 on gabion baskets and a sea wall around the cafe which have since been destroyed by large waves.
"I'm waiting for a break in the weather before we can do much... each time it gets hit again it's costing more on my excess," she said.
"There's not much sand left on the beach, most of it is in our outdoor seating area."
Ms Barry said at times there was up to 3ft (0.9m) of water inside the cafe and it was a "rip out and start again job".
"Tens of thousands of pounds worth of damage has been caused and there has been structural damage to both roofs."
She said the "adrenalin keeps us going" as well as "the money invested - we don't want to leave".
"We've had so much support from friends and customers and there's some talk of a charity event to help raise funds to rebuild the outdoor area, which is not insured."
Ms Barry hopes to get her business open again by Easter.
Kings Arms, Salcombe, Devon
The pub is the lowest business in the town and is only about 65ft (20m) from the estuary, said owner Neil Spiers.
"We get flooded when there's a high spring tide and strong winds... usually between 8-12in (20-30cm)."
The Kings Arms has been flooded six times since 1 January, but like many other coastal businesses, Mr Spiers said it was not worth getting insurance because the excess was "too huge".
He said: "The seawater comes up through the floors. It's a continual problem with damp in the walls and skirting boards."
Mr Spiers said the cost of repairs was a "long-term worry", but the property had 2ft (0.6m) thick walls and had stood through many floods.
"Valentine's night was a disaster because people couldn't get down the road because of the water."
He estimated that so far in 2014, just over £1,000 has been lost in trade and "incidental costs which added up".
Mr Spiers said: "All we can do is stop the water as much as we can."
Old Sail Loft Restaurant, Looe, Cornwall
Michelle Sadler has lived in Looe for nine years and said the flooding was the worst she could remember.
Her restaurant has been flooded three times in three weeks - with a 3ft (0.9m) tidal surge causing her business to flood on Valentine's night.
She said: "We called customers beforehand to warn them of possible flooding... when the water came in we said to the customers to get upstairs quickly.
"Staff and customers helped to bale out the water... within a couple of hours the tide had gone out."
Overnight, Ms Sadler removed the carpet, cleared up and reopened her restaurant on Saturday evening.
She is insured, but refuses to go through her insurance company because of the excess costs.
Ms Sadler said: "I've got a family and we just hope it's going to be a good summer.
"So far, half term has been pretty good for weather and trade is picking up.
"Everyone in Looe is very resilient, we just get on with it."
The Start Bay Inn, Torcross, Devon
"Waves crashed into properties and the depth of the water in the alley between the pub and another property was up to my thighs," said landlady Gail Stubbs.
She said the inn had only flooded once this winter, on 4 February, but it was a "very scary thought that it could happen again".
"We made a channel with tea towels and kept sweeping the water through the kitchen and out the fire escape door so it didn't get any deeper than 1in (2.5cm)."
Ms Stubbs said the inn was "one of the only properties which didn't have windows smashed" by the sea or items picked up by large waves.