Cumbria's ex Chief Constable wants justice after probe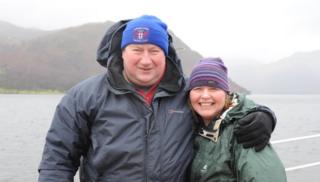 Behind the smiles there is a lot of resentment.
When I met Stuart Hyde to talk about his rise and fall at Cumbria Police he was measured in his responses but his wife Caroline, unfettered by loyalty to the uniform, was damning in how she feels they were treated.
On the morning of 13 September 2012 Stuart Hyde was Temporary Chief Constable and had been in post since being promoted from Deputy Chief Constable at the start of the year.
By that evening he was being sent home in shock. He'd been suspended yet he didn't really understand why.
Five allegations of misconduct had been levelled at him, but that was pretty much all he knew.
For nearly a year he was left with nothing to do except walk the fells and contemplate just what was going on.
He was nearing 30 years' service with plenty of achievements along the way, including a Queen's Police Medal.
Natural justice?
Now there was rumour and suspicion that he was somehow corrupt.
If you or I were charged with an offence we'd expect to be told exactly what the charge was.
We'd be given details of the evidence against us and that would give us a fighting chance of mounting a defence.
But when a Chief Constable is removed from duty, Stuart Hyde says natural justice does not apply.
When South Wales Police officers, charged with investigating the allegations, came to interview him, he says he was still not given the details of what he was supposed to have done wrong.
Nor did he know who his accusers were.
When the investigators reported their findings they made 23 recommendations to Cumbria Police to tighten up policy and procedures and 12 to Mr Hyde, including that he should receive advice about performance issues such as transparency and his "unconventional and unprofessional approach".
Although the investigation team decided there was room for improvement Stuart Hyde was cleared of any allegations of misconduct.
In his words, he was told to get a grip on being more open and sorting out his paperwork, but he was not found to be a bent copper. He expected to return to work.
When I interviewed him he was adamant he'd neither done anything wrong nor had he overstepped the mark as the most senior officer in the county.
We now know some expenses and fees were not properly recorded or declared.
There were concerns he was away from the county too much.
Could a picture of a pie he tweeted while on a mountain walk bring the office of Chief Constable into disrepute?
Should he have been pictured in his trunks whilst at a swimming event abroad?
Many might question his judgement, but others might question the need to remove him from office.
Cleared and re-suspended
In the end the Chief Constable was suspended for close to a year and the inquiry costing hundreds of thousands of pounds ended with no one happy at the outcome.
Cumbria's Police and Crime Commissioner disagreed with the findings. He insisted there was a case for Stuart Hyde to answer and immediately re-suspended him.
However there was no further disciplinary hearing to test the evidence and reach a conclusion.
Commissioner Richard Rhodes declined to be interviewed for our programme and pointed to his earlier statement about the investigation.
So what happened to Stuart Hyde?
In the end he returned to work in his former role as Deputy Chief Constable. It was just for a few months until he retired.
Stuart and Caroline are determined not to let the episode colour their time in Cumbria and they insist they'll continue to enjoy the delights the county has to offer.
Caroline says as a partner of a serving officer you were always made to feel part of the police family.
On the day he was suspended Caroline felt she and her husband were cut adrift by senior colleagues.
I imagine no amount of relationship counselling is going to patch up his "family" rift.
Mr Hyde is still seeking more details about who said what about him so that he can try and answer his accusers directly.
The public are left wondering.
Mud has been flung. It stuck while the inquiry went on.
Most has been washed away, but Stuart Hyde believes with a system that allows for such an inconclusive outcome there is still the trace of an ugly stain that stubbornly refuses to go away.
Inside Out can be seen on Monday, 3 February, 2014 at 19:30 GMT on BBC One in the North East & Cumbria and for seven days on the BBC iPlayer.