More to get Gatwick Airport noise grants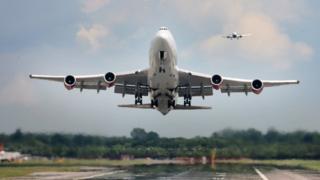 Owners of more than 1,000 homes in Kent, Sussex and Surrey are eligible to claim noise insulation grants, Gatwick Airport has announced.
The grants of up to £3,000, now available to more than 40% more homes, will go towards double glazing as well as loft insulation.
The boundary for the scheme has been extended by about 10 miles (15km) to the east and west of the airport.
Noise level boundaries have also been lowered for those qualifying.
Platform opened
Stewart Wingate, Gatwick's chief executive, said: "We understand that the public's tolerance to noise is much lower than it was, which is why we are now extending our noise insulation scheme."
The extended noise insulation programme will begin on 1 April.
The airport has also unveiled a £53m new platform and concourse which will allow fast trains from London Bridge and Victoria to travel through its railway station more quickly.
Platform 7, which will open to passengers next week, was funded by the airport and Network Rail.
It was officially opened by transport minister Baroness Kramer.
Signalling has also been upgraded at the station in preparation for improvements to the Thameslink service from 2018.
Mr Wingate said it was an important part of a push for a second runway at Gatwick.