East Midlands police forces to merge services across region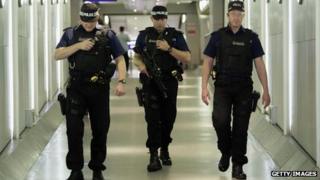 The number of senior police officers in the East Midlands are set to be cut in plans that will see four forces merge specialist teams.
The Leicestershire, Lincolnshire, Northamptonshire and Nottinghamshire forces are to jointly provide services like armed response and roads policing.
A senior officer said the move, will "significantly increase" the number of officers each force can call upon.
But the Police Federation has concerns officers may be spread "too thinly".
The merger will result in no job losses, a police spokesman said, but the federation, which represents officers, believes "natural wastage" will reduce the numbers of senior officers as they retire or leave the force.
General secretary of the Nottinghamshire branch, Mick Taylor, said the federation's concern was that, with fewer specialist officers, they "could not be in two places at once".
"Regionalisation doesn't mean more officers, it will mean they will be spread more thinly over a greater area," he said.
'Impossible to continue'
This week it was announced that Nottinghamshire Police and Crime Commissioner Paddy Tipping plans to recruit 150 more uniformed officers while trying to reduce spending by £42.3m by March 2015.
The federation sees the merger as another way to save money following government cuts.
"We have to support the Chief Constable and the commissioner in their approach, but he has to think about public confidence," Mr Taylor said.
"The cuts are so extreme, the length of time so protracted, it would be impossible to continue in the way we were."
The merger of services into a region-wide team, which also includes search teams and dog units, is set to start on 31 March.
Chief Constable of Lincolnshire Police, Neil Rhodes, said the public "will not notice any discernable difference" in policing.
"Our local response teams will always be first on the scene of an incident or crime," he said.
"What we are doing is creating a greater pool of expertise and specialist skills for each of our forces to call upon when dealing with crime in our communities."
Despite being involved in discussions over the merger, Derbyshire Police is the only East Midlands force not involved.
A police spokesman said that it was "not unusual" for forces to opt out of region-wide teams, but that Derbyshire can join "at a later date".