IFCA by-laws protect seabed from trawlers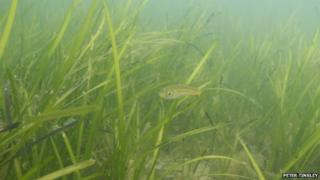 Regulations to protect marine habitats off the Hampshire, Dorset, and the Isle of Wight coasts from trawling and dredging have been introduced.
The Southern Inshore Fisheries and Conservation Authority (IFCA), wants to preserve seagrass and rocky reef habitats through new by-laws.
Robert Clark, from the regulator, called it a "significant milestone" that would support coastal fisheries.
Emma Rance, from Dorset Wildlife Trust, welcomed it as a "great step forward".
Trawling and dredging can damage sponges and coral, as well as fish, shellfish, and sea horse nursery areas, whilst mobile fishing gear and bait gathering can be harmful to seagrass beds.
About 670 sqkm (416 miles) of seabed is now protected.
Ms Rance added: "The by-laws will prevent any further habitat loss and in doing so, maintain the health, productivity and economic value of the marine environment for fishermen and conservationists alike."