First Choice jet diverted to East Midlands after fault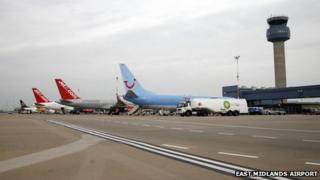 A plane was forced to make an emergency landing at East Midlands Airport.
A spokesman for the airport said the First Choice flight landed safely after being diverted from Birmingham Airport at 05:40 GMT.
He said emergency services were stood down at 06:00 after responding to the incident.
The Boeing 767 was diverted to East Midlands after reporting a "suspected minor technical fault". It has since returned to its original destination.
In a statement, the airline said: "The flight, TOM831, [from Barbados] landed as normal and was checked at East Midlands Airport before being cleared to proceed to Birmingham.
"The safety of passengers and crew is our number one priority and incidents such as this are very rare."