Henlow car dealership attacked by Tesco deer head man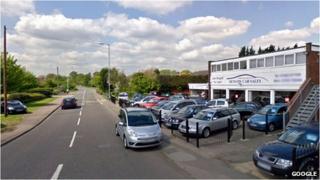 A man attacked a car showroom with an axe after deciding a Porsche he bought there a decade ago was "no good".
James Hyett, of Saffron Walden, escaped jail last year for leaving a severed deer's head at an Essex Tesco store.
But while serving a suspended sentence, he went to Henlow Car Sales in Henlow, Bedfordshire, in November with the axe.
A two-year community order was imposed by Luton Crown Court, which heard Hyett claimed the firm had not compensated him for the car.
The court was told Hyett was armed with both a knife and an axe at the time.
'Come on then'
He smashed the office window of the saleroom and the rear window of a BMW parked on the forecourt.
Next he moved across to Clifton Cuisine in Broad Street and attacked a Land Rover Discovery, stabbing a tyre with his knife, the court heard.
When chased by a restaurant worker, he stopped and, with the axe in one hand and the knife in the other, said: "Come on then."
The court was told although he left the scene he was found by police shortly afterwards sitting on a wall outside an Esso service station.
The 24-month community order will have a mental health treatment requirement.