Manchester United's Ashley Young has speeding fine slashed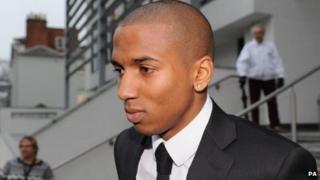 Manchester United and England footballer Ashley Young has had a £3,000 speeding fine slashed after being overcharged by magistrates.
The 28-year-old was given a six-month ban on Thursday after he admitted going at 71mph on a 50mph section of the M6 Toll in Warwickshire in March 2013.
Warwick Magistrates' Court gave him four penalty points and a £3,000 fine.
However the former Aston Villa and Watford player will now pay £1,350 following a court error.
'Bench made an error'
An application was heard at the court to reopen the case on the basis the fine was incorrectly calculated.
Chairman of magistrates Ann Homan agreed to change the fine to the new level.
The court's legal advisor, Peter Owen, said: "The bench made an error. The maximum fine which can be imposed for this offence is £2,500.
"The guideline is that you should not go above 75% of the maximum fine, so that would be £1,875 - then we have credit for a guilty plea to account for."
Naila Iqbal, who prosecuted Thursday's case, said the sentencing magistrates had not given Young credit for his guilty plea made the day before.
Victim surcharge
Mr Owen said Young was "entitled to up to a quarter off [the fine] for credit for an early plea - which means a quarter off £1,875".
Prior to Thursday's hearing, Young had nine penalty points on his licence, having previously been convicted of speeding at 100mph on the M62 in West Yorkshire, making him liable for a ban under the rules on totting-up points.
Young was given six points for an earlier offence in January 2013 and three points for another unspecified incident in 2011.
Along with the fine, Young was also ordered to pay £405 costs and a £120 victim surcharge at the hearing on Thursday.
The winger spoke only to tell the magistrates he understood the charge, and to confirm his name, age and address.
He will have to apply to the DVLA for a new licence once his ban has been served.