Oakwood prison disorder: Inmates 'told to throw excrement'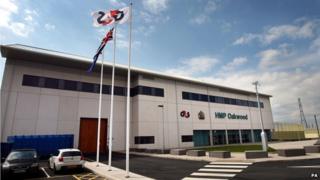 Three inmates involved in disorder at England's largest prison had been told by a jail gang to throw excrement over guards, a court has heard.
A solicitor for the men said they were in debt to the gang and were told to throw buckets of urine and faeces during disorder at HMP Oakwood.
Violence broke out at G4S-run HMP Oakwood, at Featherstone, near Wolverhampton, earlier this month.
Magistrates in Cannock added extra time to the prisoners' sentences.
Paul Kerrison, 29, pleaded guilty to three assault charges against guards and was sentenced to 12 additional weeks.
Christopher Cole, 24, admitted one assault charge and received 12 extra weeks. Matthew James, 27, received eight extra weeks for two assaults.
After the disorder a prison officer told the BBC it was a "full-scale riot" with prisoners taking over an entire wing of the jail.
G4S said about 15 to 20 prisoners were involved.