Ashley Young given six-month driving ban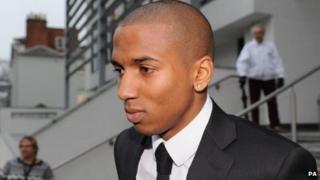 Manchester United and England footballer Ashley Young has been banned from driving for six months.
The 28-year-old was handed four penalty points after he admitted speeding at 71mph on a 50mph section of the M6 Toll in Warwickshire in March last year.
Warwick Magistrates' Court heard he already had nine points on his licence for an earlier speeding conviction.
Young's solicitor argued the road had been "quiet" at the time of his latest offence.
The winger was handed six points in January after he admitted driving at 100mph on the M62 in West Yorkshire, and three points for an unspecified offence in 2011.
Young's Range Rover Vogue was captured by a speed camera near the M6 Toll's junction with the M42 at 10:00 GMT on March 7, the court heard.
Late plea
He was fined £3,000 for the offence, ordered to pay £405 costs and a £120 victim surcharge.
Defending, Frances Coles-Harrington criticised a Crown Prosecution Service (CPS) application for £405 costs.
"Just because Mr Young is who he is, £405 for an indication of a guilty plea - if it was another member of the public here today, they'd be hit with the usual application for £85 costs for a guilty plea, not £405," she said.
But prosecutor Naila Iqbal argued that Young's late plea - entered one day before the trial started - meant the CPS had incurred costs preparing evidence.
"So, whether it is Mr Young of Manchester United or a member of the public, the costs would have been the same," she added.
Paul Tasker, chairman of the bench, told Young: "If you drive while disqualified you will be committing a serious offence and you may be sent to prison and disqualified again."