Plans to move nuclear waste by road branded 'dangerous'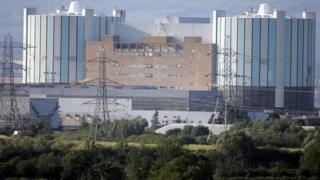 Campaigners claim that plans to move nuclear waste between several power stations by road are "dangerous".
The government wants to transport waste from Oldbury power station near Bristol, to Hinkley A in Somerset and Berkeley in Gloucestershire.
Anti-nuclear groups say the waste should be stored in-situ and "properly looked after" rather than driven.
The industry claims road transport is standard practice and it would be "business as usual".
A consultation by the Nuclear Decommissioning Authority (NDA) about the plans ends on Friday.
If the proposals are approved, new storage facilities will be built at Hinkley A and Berkeley.
Intermediate level waste will then be taken by road from Oldbury power station to the two storage sites.
The NDA estimate that, over two years, 70 lorries of waste travel to Hinkley and 100 lorries to Berkeley.
'Stop making more'
Nickki Clark, from the pressure group Stop Hinkley, said that the waste "needs to stay where it is [at Oldbury] and be properly looked after".
"If people don't like having it in their backyard then the answer is quite simply - stop making more," she said.
A spokeswoman for STAND Against Oldbury said taking the nuclear waste by road to the site would be "a recipe for a disastrous accident" and a "gift to terrorists".
The claims have been denied by the nuclear industry.
"The UK has been transporting radioactive material around the country safely for many, many years without incident" said Lee Talbot, site director of Hinkley A.
"I think this is just business as usual," he said.
The NDA said it had carried out an "extensive" consultation.
"The input we have received from stakeholders to date has been invaluable in helping to shape our thinking and we look forward to reviewing the comments we receive before making a final decision on our preferred options," the authority said in a statement.
And a South Gloucestershire Council official said the authority had responded to the NDA consultation on "preferred options" for waste storage facilities "following discussions with our Planning Transportation and Strategic Environment lead members and local councillors".
Last week, West Somerset Council said it was opposed to the proposals.